Renowned Historian Thomas Laqueur Visits the History Department
Written by Katy O'Neill, CAS communications intern
On October 30-31, the Miami University History Department hosted Professor Thomas Laqueur, Helen Fawcett Distinguished Professor of History at the University of California at Berkeley.  Besides visiting several history classes, Professor Laqueur gave a  public lecture, entitled "Bodies Visible and Invisible: The Necro-Politics of the Jewish Cemetery in the Life of Modern Thessaloniki," which drew an audience of about 100 Miami students and faculty.  Professor Laqueur, history professor Erik  Jensen noted in his introduction, has written four books and countless articles on the body, sex, and human remains, among other topics.  In addition, Dr. Jensen said, he "is an accomplished cellist, wrote a libretto for an opera, writes absolutely wonderful reviews for the London Review of Books that are mini masterpieces in their own rights, and he attended medical school at University of California San Francisco in preparation for [his groundbreaking book] Making Sex."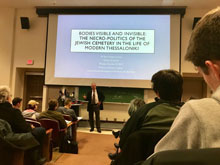 Professor Laqueur's lecture analyzed the story of the 1942 desecration of a Jewish cemetery in Thessaloniki by 500 Greek men as an attempt to erase the city's historical memory of its Jewish community.  "The dead were not just forgotten," he explained, "they were actually being stripped of their history."
Laqueur detailed the history of the cemetery, its desecration, and its revival as a historical monument in a five-episode lecture accompanied with personal anecdotes and photographs.  He also spoke of his own sense of duty as a foreigner to share the story of the Jewish cemetery with the local community -wholly unaware of this history- and with the University that stands upon its remains.
The lecture was made possible by the Phi Beta Kappa Society Visiting Scholar Program and the McClellan Lecture Fund of the Department of History.