Miami Professor Receives International Recognition for Research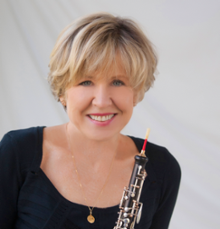 Jan 24, 2019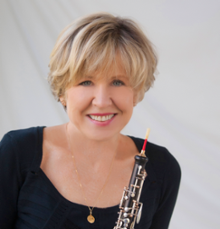 Miami University Department of Music's Professor of Oboe, Andrea Ridilla's groundbreaking research about the difference in blowing pressures, and the manipulation of the reed opening (by the embouchure) as a consequent in double reed playing has earned international attention with a recent article. Ridilla co-authored the article with Dr. Leonardo Fuks, Professor of Acoustics and Voice Science at the Universidade de Rio de Janeiro in Brazil.
"Sweet Cane Dreams: The Inner Role of the Double Reed," is featured in the Spring 2019 issue of The Double Reed, the quarterly journal of the International Double Reed Society. The article is a follow-up to a collaborative presentation of the same title given by the authors at the 47th Annual International Double Reed Society Conference in Granada, Spain in September 2018.
Ridilla and Fuks collaborated using 21st-century communication tools such as shared Google docs and What's App to conduct this study that marries artistic impulse and scientific exploration, in the pursuit of gaining more control over the sound produced. The research reveals that the oboe is not played with wind flow, as in the flute or recorder, but rather with "blowing pressure." Changing the blowing pressure and the reed opening (with the embouchure) as a consequent for register changes, dynamics necessary for expressive communication in performance. Resembling alternating and direct current in electricity, the authors refer to the famous argument between Edison and Westinghouse as a comparison. The two—wind pressure and alternation of the reed opening work in tandem to have an even tone in a musical instrument with a conical bore.
Dr. Stephen Caplan of UNLV and author of "The Breathing Book and Oboemotions: What Every Oboe Player Needs to Know About the Body" wrote Ridilla to share: "I love the image of a vibrating reed. I also love that you outright state, "...there is no way he/she could choose the direction to blow." I like the term "pneumatic energy" and the comparison of playing oboe to alternating current! Thank you for leading readers (and reeders) towards a more serious scientific understanding of what we do."
Ridilla credits her time at Miami University as leading her towards this research. "I would not have evolved in such a way as an oboist, or a professor had I taught in a music conservatory. The enriching intellectual stimulation that Miami University brings every day, and the curiosity of my oboe students, have helped me to create an intellectual atmosphere of science and art in music performance studies. In the oboe studio, with both breathing and reed making, we go through the door of science to get to art."
Ridilla is the 2015 Recipient of the Miami University Distinguished Teaching Award in the full professor category.
The International Double Reed Society (IDRS) was established in December 1971 as a worldwide organization of double reed (oboe and bassoon family) players, instrument manufacturers, and enthusiasts. The society has over 2,700 members from around the world.