Alumni Profile: Jason Lee Bruns, '02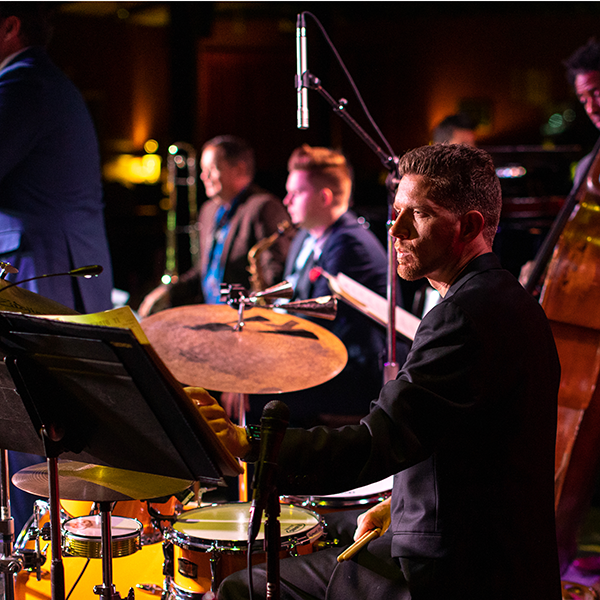 Apr 24, 2019
By Karen O'Hara, university communications and marketing
If you could somehow add an expansion pack to your favorite high school music teacher, the result would look a lot like Jason Lee Bruns:
Fourteen years at Campbell Hall (a top private school in North Hollywood), founder and director of their World Music and Recording Arts & Production programs;
Private studio instructor in drum set, world percussion, music production, and music theory;
International musicologist, recently home from field-research in Colombia, where he studied cumbia, an influential folkloric rhythm;
Music engineer and producer with his own boutique record label, Panout Music Group;
Composer and arranger for his eponymous 8-piece crossover-jazz ensemble, 'Jason Lee Bruns Collective,' preparing for both another performance at the famous Catalina Jazz Club and their second tour of Japan.
At a time when classical musicians were just starting to embrace world music, Bruns was earning his bachelor's in music performance at Miami. He played drum set and mallet percussion, performing with Marching Band, Wind Ensemble, and Jazz Band. Along the way, he picked up a minor in music composition and a thematic sequence in cultural anthropology.
During the summers, he coached marching band drum lines for nearby high schools. He also occasionally subbed on percussion for the Richmond and Hamilton-Fairfield symphony orchestras.
In his spare time, he honed his gigging skills with local professional musicians. On Tuesdays he played in a jazz trio uptown, and on Sundays he played in a blues band. He was even in a ska band, 'Jack Friday,' that played the local bar scene and frat parties. 
After his professor, Chris Tanner, introduced him to steel pan and the musical influences of the Caribbean and West Africa, Bruns knew he had found his life's work.
"Dr. Tanner and Dr. Bill Albin [emeritus] both believed in me and gave me some great instruction. And Dr. Charles Stevens really challenged me in his anthropology course to think about the world differently," he said.
After graduation, he pursued a master's in Jazz Studies at USC. During graduate school, he taught for USC's Jazz Reach and created/facilitated group drumming programs for L.A.'s Best, an afterschool enrichment program. In 2005, while teaching for "A Place Called Home" (an after school center for at-risk-youth), he learned about the percussion position at Campbell Hall.
Southern California turned out to be an ideal environment for Bruns to pursue a full-time career in music. "The diversity of the genres and instruments that I play lets me pull in multiple revenue sources," he said. "My income is based on a teacher salary, private lessons, freelance gigs, royalties from recordings on my label, and occasional work as a mix engineer—my second master's was in Audio Engineering from Berklee."
Bruns urges music students to be ready for opportunities, regardless of what skills they have to offer. "Start now to build a website with promotional material: demo recordings, press kits, résumé," he said. "And always follow up with connections in a timely, professional manner, as you never know where something may lead."
After all, things do have a way of panning out.
Artist's site: https://BrunsBeats.com/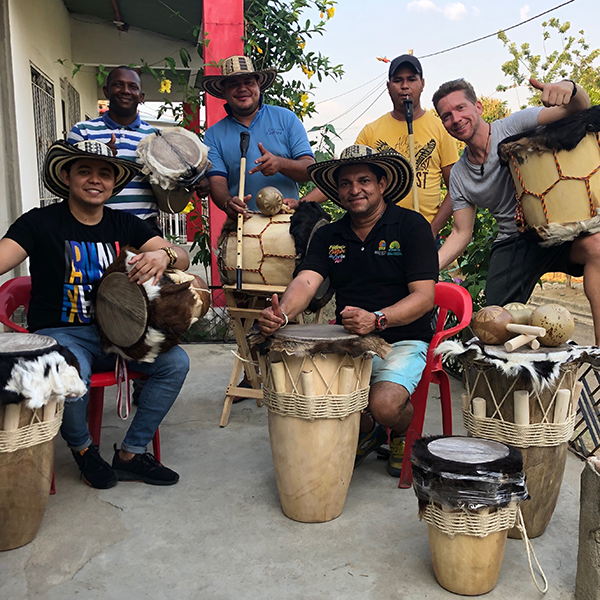 Jason Lee Bruns (at right) during a research trip to Colombia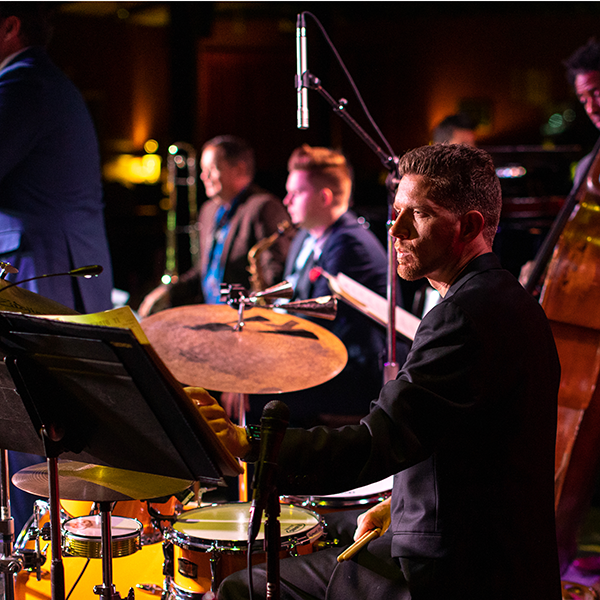 Performing on drumset with the Jason Lee Bruns Collective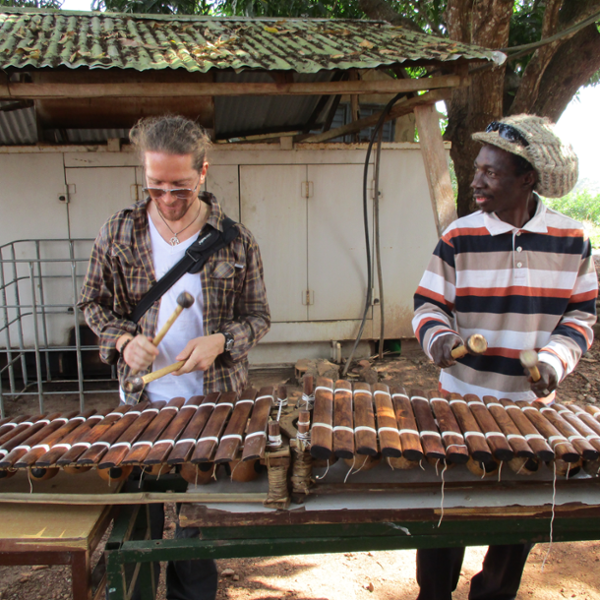 Mallet session during an African research trip