Students Perform a Play at Cincinnati's National Underground Railroad Freedom Center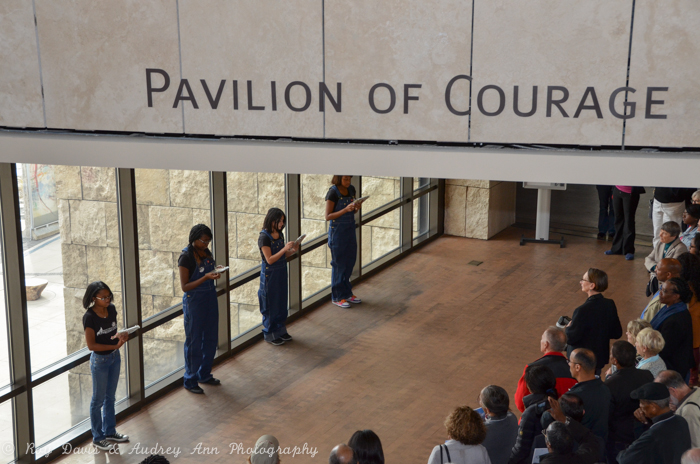 Oct 29, 2019
Students from Miami University and youth docents from the National Underground Railroad Freedom Center (NURFC) will perform Choosing Freedom: The Mississippi Summer Project of 1964, at 4 pm on Saturday, November 2nd, in the Harriet Tubman Theatre at the NURFC.
This short play is part of The Freedom 55 mini-conference, Freedom Summer, Then, Now, and the Future, and will feature presentations by Miami University alumni, faculty, students, and panelists from the civil rights movement. Directed by Dr. Ann Elizabeth Armstrong from Miami University's Department of Theatre, Choosing Freedom re-enacts the training for the Freedom Summer Project that took place in Oxford, Ohio, at Western College for Women. The play explores the injustices activists sought to change in 1964, the work of the Freedom Schools in educating youth for democratic participation, and how the struggle for social justice continues today. 
About Choosing Freedom: It is in 1964. Young people and activists from all over the country are gathering in Oxford, Ohio, to prepare to teach freedom schools and register voters. Learn about the Civil Rights movement. Will you go to Mississippi? Will you join the struggle? 
The Freedom 55 mini-conference, Freedom Summer, Then, Now, and the Future, commemorates the 55th anniversary of Freedom Summer and will include two keynote speakers, panel discussions, a film screening, a theatrical performance and more. All sessions are free and open to the public, seating is limited. Registration is required for the evening keynote sessions.
The Freedom 55 mini-conference program is presented in partnership with Miami University and the Miami University Humanities Center. Sponsored by: Macy's and The John A. Schroth Family Charitable Trust, PNC Bank, Trustee.
Freedom 55 Mini-Conference
Freedom Summer, Then, Now, and the Future
November 1-2, 2019
National Underground Railroad Freedom Center
50 East Freedom Way, Cincinnati, OH, 45202
Choosing Freedom
November 2, 2019, 4 pm
Harriet Tubman Theatre
Additional Information