The College of Creative Arts Announces the Department of Emerging Technology in Business + Design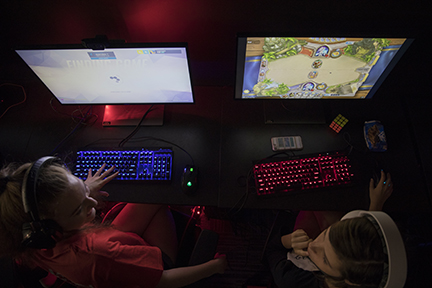 Dec 19, 2019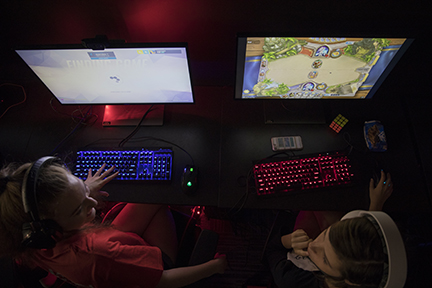 2 students explore game theory and design in ETBD at Miami University.
In today's global and highly competitive business landscape, beating the competition to the future is fundamental to success. An increasing number of organizations are exploring future possibilities at the intersection of creativity and emerging technology. That is why the College of Creative Arts at Miami University is thrilled to offer a program that examines how digital technology is transforming traditional areas of inquiry in the new Department of Emerging Technology in Business + Design or ETBD. Formerly the Armstrong Institute for Interactive Media Studies (AIMS), the program has grown from just one course in 1996 to 1,000 current students, three minors, two majors, and a graduate certificate program. In celebration of this great achievement, the program has become a department in the College of Creative Arts and is receiving a more fitting name: Emerging Technology in Business + Design. "ETBD, which grew out of the Armstrong Institute for Interactive Media Studies (AIMS), is boldly going where no one has gone before." said Liz Mullenix, Dean of the College of Creative Arts, "Miami is a perfect incubator for such a program: our nationally ranked faculty (with their teacher/scholar orientation) coupled with Miami's mission to provide innovative programs and engaging learning experiences make for the kind of cutting edge opportunities found in this new Department. Like artists and creative thinkers throughout the history of time, ETBD is truly on the vanguard."
Emerging Technology in Business + Design (ETBD) encompasses the various disciplines that shape the digital age. Students acquire skills in core areas such as coding, marketing, entrepreneurship, design thinking, communication, collaboration, and product management.  Most importantly, the curriculum leads students to an expansive perspective in which each skill informs the others. Graduates bring unique qualifications to their respective organizations, becoming valued employees and creative leaders. Beyond the foundational work, ETBD students select areas of specialization in which they are supported by expert faculty. 
The ETBD Games + Simulation curriculum carries the same benefits but adds intensive professional training in the creation and interpretation of games. Students can focus on any aspect(s) of game development: design, narrative, programming, animation, production, etc. Intelligent.com recently ranked the ETBD game program at Miami University as the #1 game program in the world. Being the top-ranked program at Miami University, ranked #3 in undergraduate teaching in public universities by the Princeton Review, makes ETBD a powerhouse in education. 
When asked how becoming a department and the name change would impact the program, Glenn Platt, Interim Chair of ETBD and Director of the Armstrong Institute, shared that "These are both significant changes that will help position the department to provide a cutting-edge education for Miami students. The new name makes it more clear what we teach: How emerging technology (e.g., VR, games, web/app, IOT, mobile, etc.) is driving the frontiers of business in a design-centric world. As we roll out new initiatives, like certificates in Digital Marketing, a graduate degree in Technology Entrepreneurship, an esports graduate certificate, and more, this name provides the scaffolding to build new opportunities for Miami students. Our recent #1 national ranking is evidence of that power. As a department in CCA, we benefit from the synergies with other departments; for example, our new focus on Entertainment Design (think Blink Festival or projection walls in concerts) has synergy with Theatre and Art. The high-quality programs in CCA provide world-class partnerships."
 With a program that is tasked with designing for the future, how does Platt see ETBD in the coming years? "Frankly, that's the cleverness of the new name ETBD. The whole point of this department is to be on the frontiers, which are always changing. We are not a discipline, per se. We are a way of solving problems and approaching opportunities. Where will we be a few years from now? That is TBD. Just know we will be on those frontiers. As I mentioned earlier, we are building new opportunities in entertainment design, esports management, advanced digital marketing, usability, and front-end AI. Those are just some of the areas we are exploring now. We are also expanding our semester-long co-op/internship program in San Francisco to Luxembourg in January and likely Chicago, Austin, or NY in the coming years."
The ETBD program has been successful not only because of the growing demand for creativity in the business sector but also through its innovative approach to education. Platt shared that ETBD is different from competitive programs because "most other programs are one of those three things (Emerging Technology, Business, Design). There are some great programs in tech or design or business out there, but VERY few that can say they offer curriculum in all three. Our San Francisco semester-long internship experience is distinct. Our faculty joint appointments across campus reflect a transdisciplinary model that higher education needs and few can provide. Then, if you layer on that our incredible facilities and technology (e.g., a multi-million dollar VR lab, an eye-tracking UX lab, a 3D modeling and motion capture lab much like LucasArts, or a game development lab with high-end workstations), we offer an experience that is unparalleled. Our high placement rates and starting salaries reflect the market speaking to that exceptional Miami experience."
Appreciation of creativity and innovation in business may seem like a recent trend, but a 2010 survey by IBM of more than 1,500 chief executive officers ranked creativity as the number one factor for future business success. If the rapid growth represented by the ETBD story is any indication, the demand for creative solutions in business will continue to expand and so will ETBD at Miami University. 
The Armstrong Institute for Interactive Media Studies (AIMS) was founded in 1996 by a multi-disciplinary group of faculty who worked in emerging technology and recognized that a new horizontal organizational structure was needed. The program is funded through generous gifts from C. Michael Armstrong and Anne Armstrong, as well as the P & G Foundation and John Smale.
For more information on ETBD, visit the ETBD homepage.