Interactive Media Studies Professor Named AIS Distinguished Member Cum Laude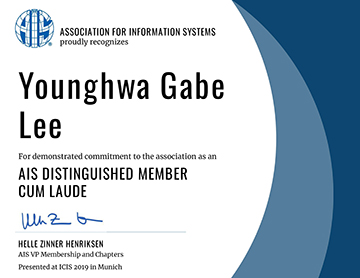 Dec 05, 2019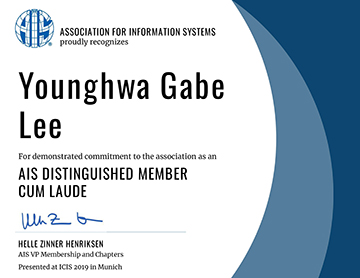 The College of Creative Arts at Miami University congratulates the C. Michael Armstrong Business Chair and Professor, Gabe Lee, for being named an AIS Distinguished Member Cum Laude. Gabe Lee is a joint faculty member between Interactive Media Studies in the College of Creative Arts and Information Systems + Analytics in the Farmer School of Business. To receive this designation, the recipient must have been a continuous AIS member for at least 10 years, play a leadership role in AIS or related AIS activity, and have been published in at least four publications in AIS or AIS affiliated journal.
The Association for Information Systems (AIS) serves society through the advancement of knowledge and the promotion of excellence in the practice and study of information systems. AIS is the premier professional association for individuals and organizations who lead the research, teaching, practice, and study of information systems worldwide. They have a current membership of over 4,400 members, but only 50 have been designated as distinguished members.
Gabe Lee currently holds the C. Michael Armstrong Business Chair at Miami University. He holds a B.A and an M.B.A. degrees from Korea University, Seoul, Korea and a Ph.D degree from University of Colorado at Boulder. His research focuses on web design and usability, technology acceptance, and information security. His research has appeared in Communications of the ACM, Decision Support Systems, European Journal of Information Systems, Information & Management, Journal of the Association for Information Systems (JAIS), Journal of Management Information Systems(JMIS), MIS Quarterly, and in other journals. He serves as a track chair of the Interface Design, Evaluation, and Impact (IDEI) at the Americas Conference on Information Systems (AMCIS), and a chair for SIGHCI. He also served as a special issue editor of the International Journal of Human Computer Studies and the Database for Advances in Information Systems. Prior to joining Miami University, Dr. Lee was on the faculty at University of Kansas in Lawrence, KS, and at University of Northern Iowa in Cedar Falls, IA.