Miami Opera Theater Wins Another National Award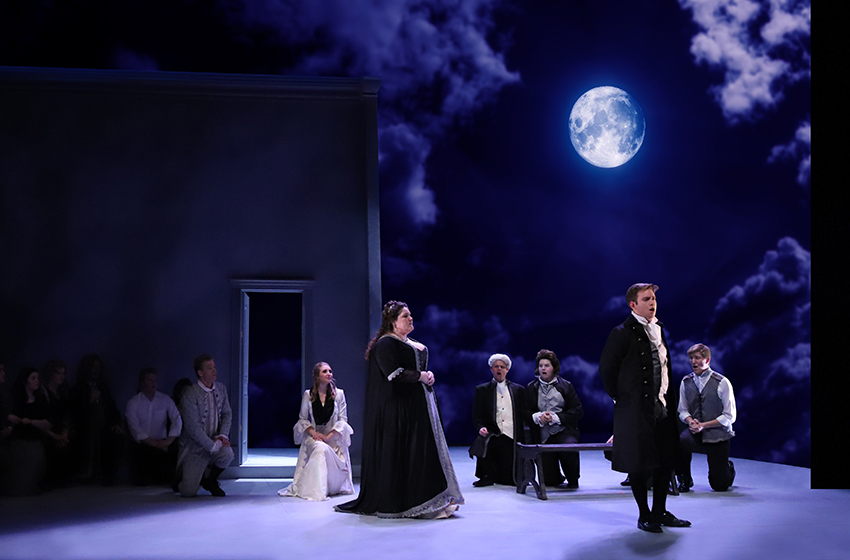 Nov 19, 2020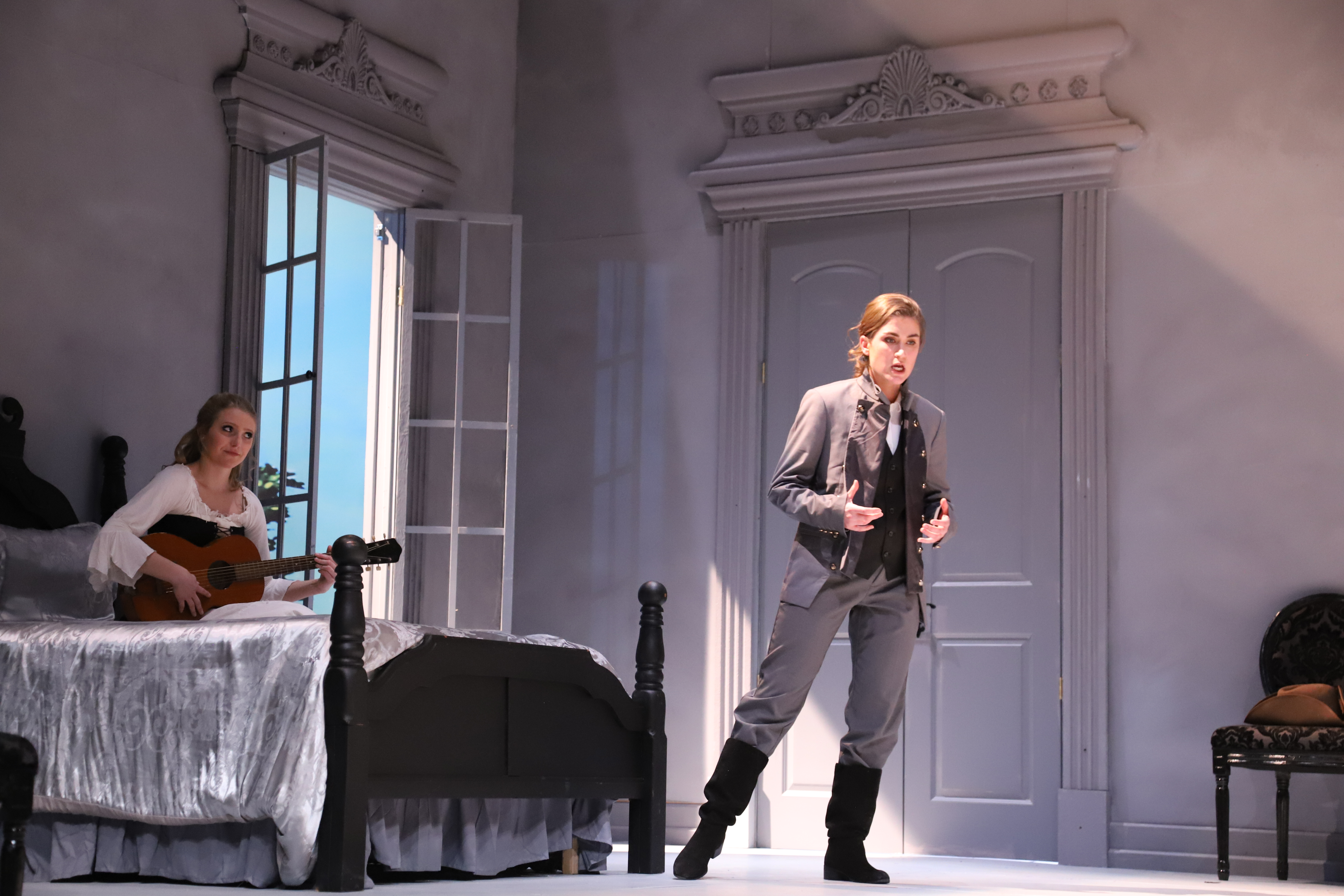 In 2006, Charles Parsons of Opera News attended a performance of Miami Opera Theater's production of Paul Bunyan by Benjamin Britten at Hall Auditorium. In his review, he referred to Miami Opera Theater as the 'hidden gem' of the tri-state region. This production went on to garner Miami Opera's first award from the National Opera Association for Outstanding Collegiate Production. This year marks the fourth national award for the opera program with a second-place designation for the 2020 production of The Marriage of Figaro by Mozart. This award confirms a long tradition of success for the voice program at Miami University.

"This achievement speaks to the caliber of students that we are recruiting, the strength of the Music Department, and the hard work of the Miami faculty in training young artists", states Benjamin Smolder, the program's director. In the past fifteen years, Miami voice students have had a notable placement in the finest graduate programs in the world including the Royal Conservatory in London, Indiana University, The Juilliard School, San Francisco Conservatory, and Cincinnati College-Conservatory of Music. "Our students are singing on opera stages throughout the world, winning international competitions, and include Broadway stars, artistic directors of major opera companies, Metropolitan Opera regional winners, composers, choral directors and voice professors at universities around the country," states Smolder. "In our program, students learn in the basics of stagecraft and production and are involved in every aspect of the creation of this art form. We strive to equip our students to think both creatively and collaboratively and to equip them with a skill set to create their own art." With the onset of Covid-19, the program has shifted its curriculum offerings to include skills associated with film creation, video and sound editing, marketing, and characterization. Miami voice students have been working in collaborative groups to create and implement projects in each of these areas.

This spring, the program will produce a new work entitled Hydrogen Jukebox by Philip Glass. The musical theater piece tells the story of Allen Ginsberg, one of the greatest American poets of the 20th century, and leader of the Beats. The production will be filmed in a variety of locations using state of the art technology including projections, puppetry, dance, and green screen technology. Minimalist composer Philip Glass is considered one of the most influential modern composers of the late 20th century best known for his prolific output of opera, film scores, and instrumental works. Recently his Portrait Trilogy of operas that include Einstein on the Beach (1976), Satyagraha (1978), and Akhnaten (1984) received new productions at the Metropolitan Opera. Hydrogen Jukebox found its collaborative origins in a chance meeting between Glass and Ginsberg at a New York bookstore the culminated in the creation of a new work that premiered at the Spoleto Festival in 1990. This musical theater work tells the story of Ginsberg at the end of his life being visited by Dickensian-like ghosts of the Beat period. The show's libretto is comprised of Ginsberg's poetry and addresses themes that America is still coping with today including endless war, environmental protection, sexual identity, protest, and civil unrest. "I was drawn to the piece for its timeliness and its adaptability to film. The themes in the show speak to the hearts of our students and I believe that this is the generation that will enact many of the changes that Beats could only dream of. This generation is less bohemian, but they understand the importance of protecting the environment, equality, and share a vision of America that reflects tolerance and understanding."

The production of Hydrogen Jukebox will cap a semester of streaming productions that include the award-winning production of The Marriage of Figaro in January, followed by a number of streaming student concerts, and will culminate with the release of Hydrogen Jukebox in April. The production will be filmed in January while the university is on break by creating an artistic pod similar to sports organizations. The opera will include collaborations with many local arts organizations including Pyramid Hill Sculpture Park, the Cincinnati Mural Project, The American Sign Museum, dancers from Movement Emporium, and Cincinnati Opera's renowned lighting designer Thomas Hase. The work will be directed by Benjamin Smolder with film direction by Tiffany Lusht. The work is intended for mature audiences and more information on the upcoming season can be found at muopera.com or on our Facebook site Miami University Opera Theater.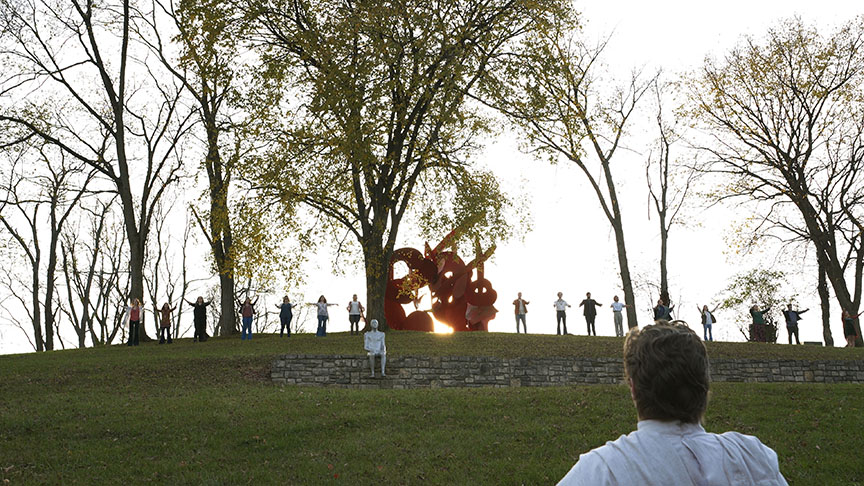 Hydrogen Jukebox by Philip Glass
In this image, Ginsberg wakes from Death and enters the Buddha Fields. 
Filmed at Pyramid Hill Sculpture Park.