Music Education Alumna Honored at Country Music Awards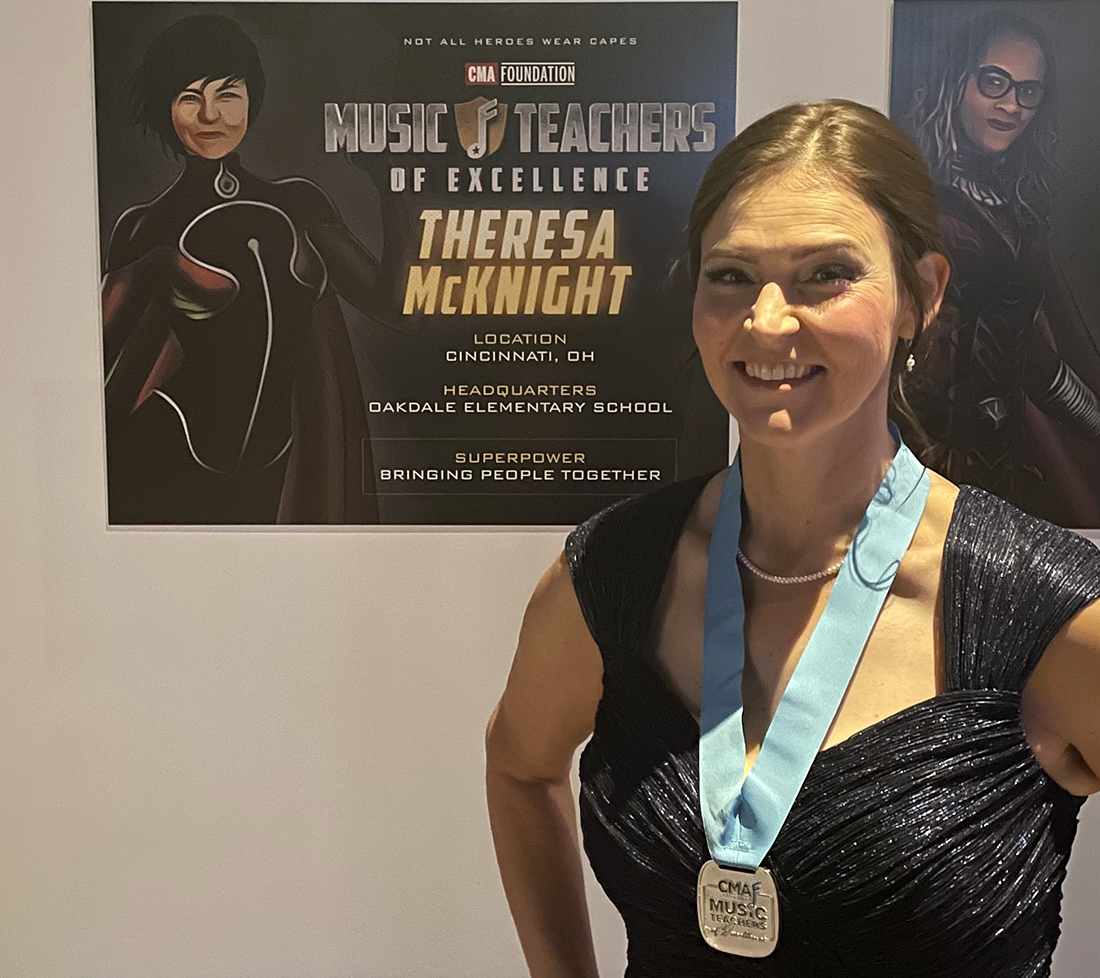 Dec 08, 2021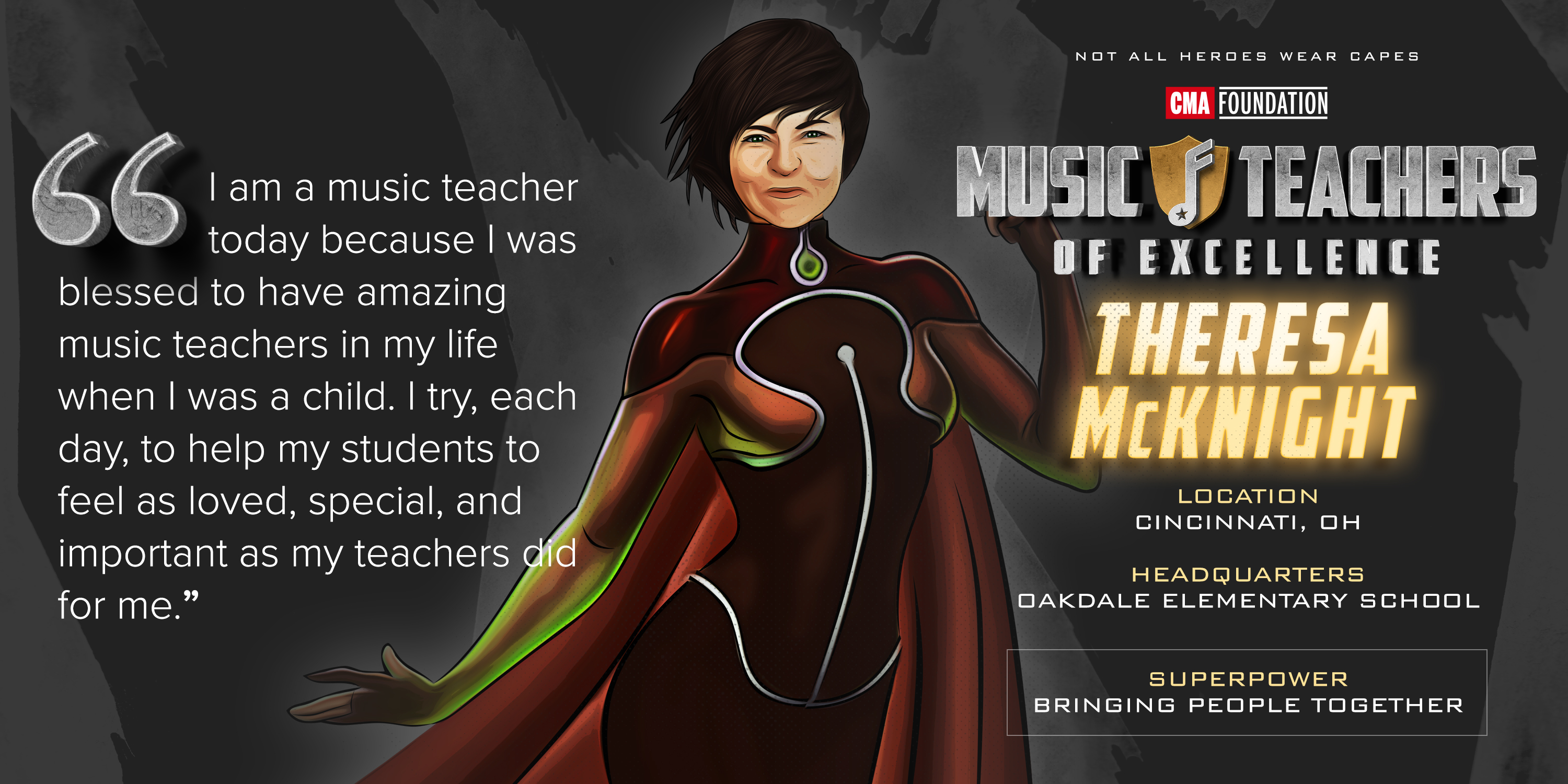 Interview by Jeni Barton, College of Creative Arts.
Theresa McKnight, elementary music educator and Miami University alumnus, was honored as one of the 2021 CMA Foundation's Music Educators of Excellence at the 55th Annual Country Music Awards on November 10, 2021. In 2016, the CMA Foundation launched Music Teachers of Excellence to celebrate, honor, and invest in music education teachers who exemplify excellence.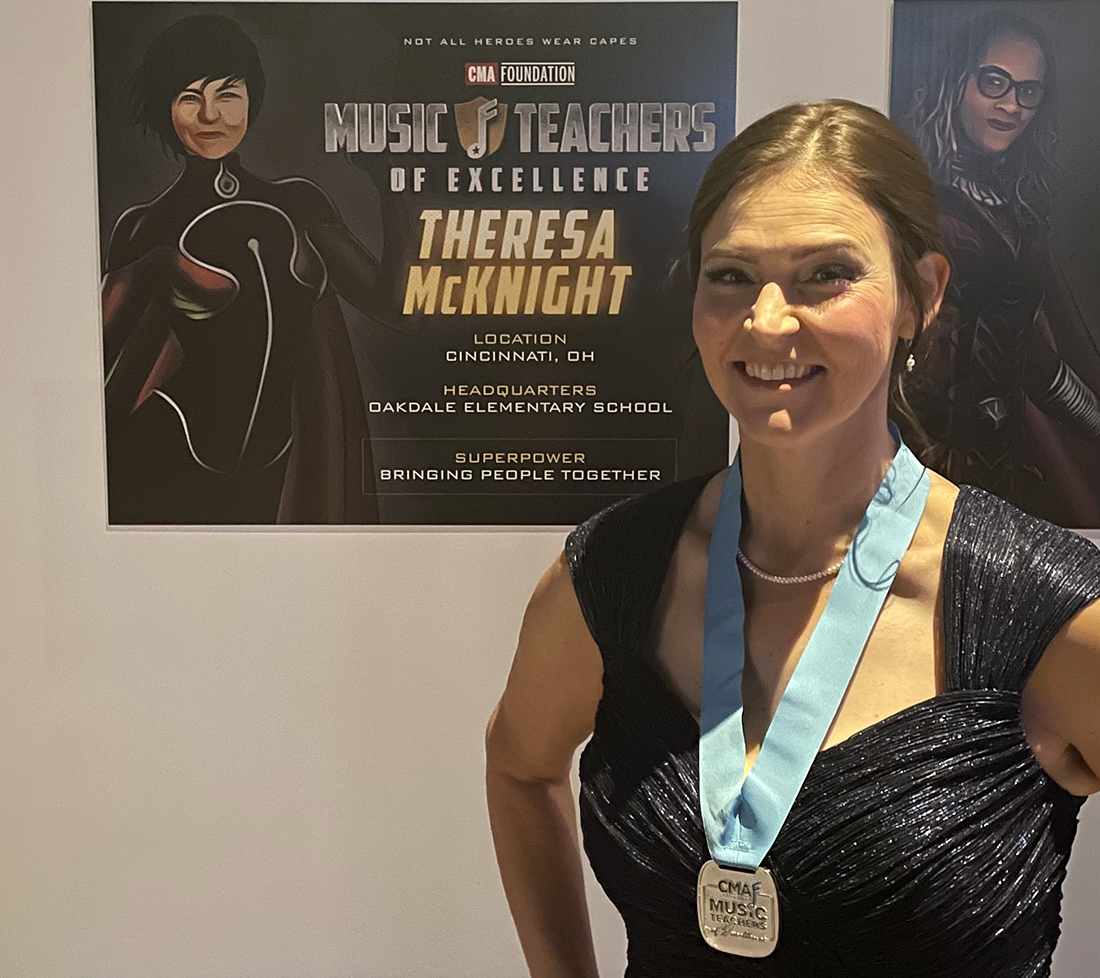 McKnight is an elementary music teacher at Oakdale Elementary School in Cincinnati, Ohio. She teaches first through fifth grade general music and fifth grade band as well as co-directs the Oakdale Orff Ensemble and the Oakdale Ovation Choir. The Ovation Choir performs in multiple community concerts throughout the year as well as a holiday concert and a spring musical. The choir has performed the National Anthem at Cincinnati Reds games and Cyclones games.
We caught up with Theresa McKnight to learn more about her exciting night at the Country Music Awards.
Can you tell me about your Music Education experience at Miami University?
I loved my time at Miami University. I had many wonderful teachers. One that really stands out for me is Sam Reynolds. He is an amazing educator and inspired me to put my best self forward, even in times of difficulty. I have always appreciated his support as well as his honesty and willingness to help. He definitely went above and beyond as an educator. I am so appreciative of his efforts to create strong music educators.

In my imagination, you received a tv award envelope with a tear-away seal to invite you to the show. How did you find out and what were your first thoughts?
I found out on March 9, 2020. The CMA Foundation created an amazing video of the 30 awardees as superheroes. It was amazing.

Wow! That is even better than an awards show envelope. What was the most surprising or unexpected thing about attending the Country Music Awards?
I loved the entire experience. The performances were absolutely amazing. My favorite performance was the Jason Aldean and Carrie Underwood duet. Jennifer Hudson blew me away. Luke Bryan was awesome as the host. Everyone was just outstanding. It was most definitely a once-in-a-lifetime experience.

I realize this is going to sound silly, but one thing that stood out for me was the commercial breaks. It was fascinating to watch all of the behind-the-scenes things that go on during a live awards show.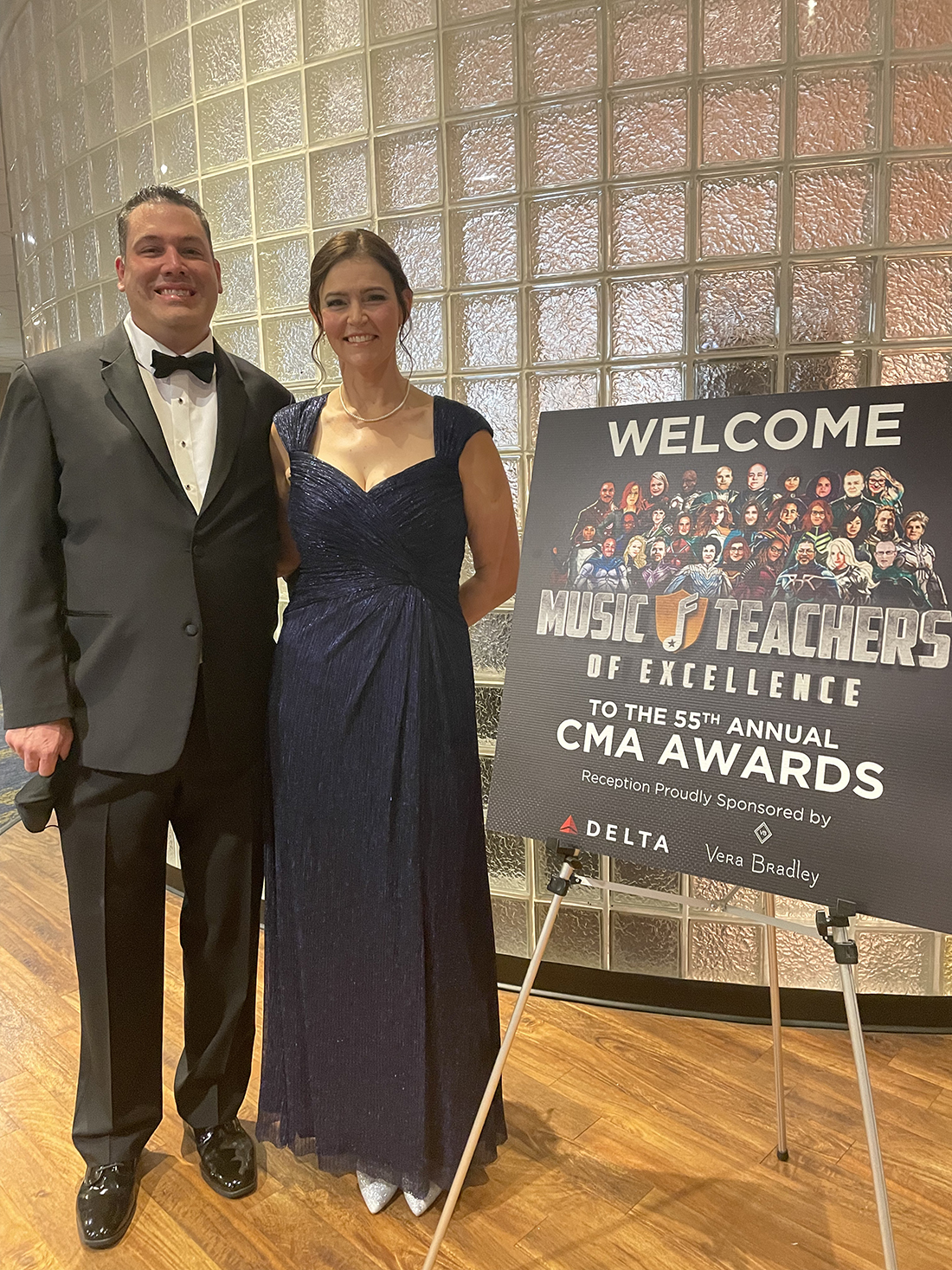 How will receiving this honor help you continue, or even expand, on your music education mission?
I have used the grant money to purchase a class set of ukuleles for my students to use during music class. I have also purchased tubanos for our music program. This grant money will help me to continue to offer my students the highest quality elementary music experience that I can. In the time that I have been at Oakdale, I have received over $20,000 worth of grants to purchase instruments and provide musical experiences for my students.

I believe in the power music education holds. I do my best to do whatever I can to ensure that my students receive the best possible elementary music education. I will continue my own personal professional development to bring the most up-to-date practices and ideas in elementary music education to my students and school.

What advice do you have for current Miami students who want to become future music educators?
Believe in yourself. Believe that you can do great things. You can and will make an impact on your students' lives. Believe in your students. Help them to see how important they are - that they are unique, special people.