Students program on the beaches of Italy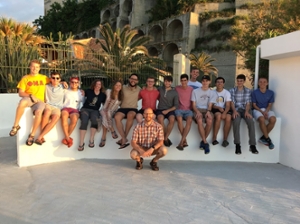 Jul 06, 2017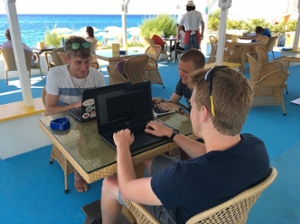 Students programming next to the ocean          Students programmed on the beautiful, white beaches of Calabria when they studied abroad in Italy over summer term.
Fourteen students flew into Rome to meet up with Norm Krumpe, senior lecturer in the department of computer science and software engineering. Then they hopped a train to the University of Calabria, known for it's international collaborations with other univesities like Miami.
During the four-week class, students took CSE 262 (Technology, Ethics, and Global Society) and CSE 270 (Knowledge Representation).
Students also got a unique opportunity to learn from a creator of the answer-set-prolog programming language. Francesco Ricca taught the students the language for one week, which gave the students a unique insight into it. When they wanted to ask questions about why the language functioned the way it did, they could ask the man who made it.
When they weren't coding, they were spending time on the beach. And because they were only in class Monday through Thursday, during the weekends they went on trips.
Two trips were to the towns of Tropea and Albidona, and one was to the beautiful Amalfi coast. In addition, although most students went home after completing their coursework, some students chose to extend their trips in order to explore Europe before flying home.
By Paige Smith