Summer Scholars build and program robots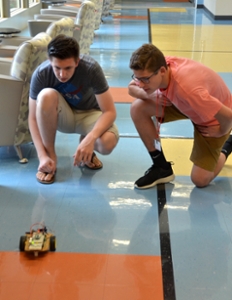 Jul 24, 2017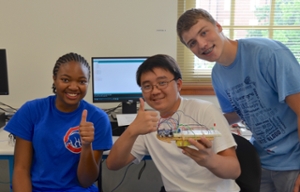 A group of summer scholars give their robot a         
thumbs-up!
High school students are learning engineering design in Benton this summer as they build and program robots.
They come as part of Miami's Summer Scholars Program. Two two-week sessions of rising 11th and 12th grade students are led by James Leonard, adjunct professor in the department of electrical and computer engineering. The first session ran from July 2 to July 14, and the other started July 16 and will go to the 28th.
These students come from as far away as Puerto Rico and California.
They stay in the dorms and eat in the dining halls during their stay. Students also do workshops that help prepare them for college, such as "College Life 101" and "College Essay Writing". And of course, the bulk of the day is spent working on their project.
At the end of the session students, who work in groups of two or three, have robots that will travel along the ground and turn based on the code the students have written, all while signaling its actions with LED lights.
Fun activities planned for the students included a trip to Kings Island and a Cincinnati Reds Game.
In addition to engineering design, other groups of summer scholars are studying topics such as fashion design, activism, and entrepreneurship, amongst others.
Paige Smith