Answers to 7 Top Job Search Questions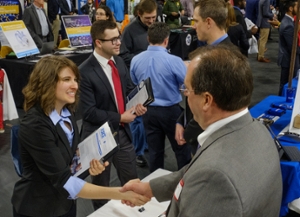 Aug 09, 2017
Typing the word "engineer" into Indeed.com generates over 243,000 pages of job postings, and typing "computer scientist" generates over 11,000. So how can a student looking to start their career find the perfect job and get hired?
For engineering and computing students graduating in May, employers most often will start posting jobs in August. Many large companies will try and secure their "class" of new-college hires during the fall semester. So while graduation might seem a long way off, for CEC students going into their last year of school now is the time to start looking for a job.
With the help of Kelly Thompson, the career advisor for CEC, here are the answers to some of the most common job-search questions.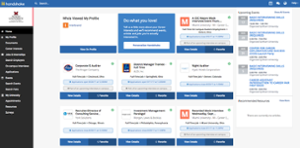 Handshake helps connect students to 180,000         
employers
1. What is Handshake and why should you use it?
Handshake is the new career tool that Miami University has adopted, replacing CAREERLink. Handshake has all the features that students have grown accustomed to with CAREERLink and more—students can create bios, upload resumes, and find and be found by employers.
Over 180,000 employers have created a profile in the platform, and students can search for job postings. Each job posting will tell you whether you match the employer's preferences for major, GPA, and graduation year. Students can favorite jobs, employers, and events as well as save searches, so that they can come back to the same search later to find new results.
Another new feature available is that students can schedule appointments with advisors based on industries that they are interested in, not only what their major is. For example, if an engineering major wanted to go into entrepreneurship, the business career advisor could meet with them as well. This allows students interested in branching outside of engineering roles to talk to someone with a different area of expertise.
2. Where are the best places to find job listings?
Indeed.com is one of the largest job databases. Other recommended websites to check-out include Idealist.com, Simplyhired.com and LinkedIn. For those looking for jobs in Ohio specifically, ohiomeansjobs.com is a good source, and for those looking to go abroad goinglobal.com will give you information unique to each country, including employment trends, visa information, and interviewing and resume advice. Additional CEC specific job sites can be found on the career center website.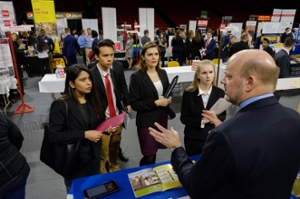 Competition for entry-level jobs can be fierce            

3. What are some tricks to maximize chances of getting an interview?
More than likely, if you are applying online, applicant tracking software will read through your application and look for keywords found in your resume. This software will weed through applicants in order to find people who match the company's needs based on an algorithm. Using keywords found in the job posting in your resume and cover letter will maximize your chances of having your application passed to a real hiring manager.
Another thing that hiring managers look for is follow-up. Two to three weeks after you submit your application, or after the application window closes if that is known, contact the job poster and offer to answer any questions they may have of your experience and qualifications, etc. Entry-level job postings often receive hundreds of qualified applicants, so hiring managers need to narrow the applicants in some way. Following-up shows genuine interest in the position and gives employers a reason to extend an interview.
You also need to learn to sell your experiences. As you get closer to your graduation date, you need to learn to translate your experiences to applicable skills that employers look for. Common part time jobs like food service or retail work can give you skills that can make you a better engineer, such as time management, teamwork, and leadership.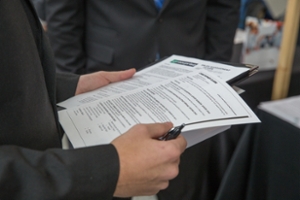 Craft the perfect resume for your job search             
4. What experiences should you emphasize in your resume?
Employers coming to Miami University are consistently looking for two things: leadership experience and relevant work experience. Students should emphasize their co-ops and internships and how they demonstrated leadership in their student groups to stand out to employers.
5. What can you do to go above and beyond?
Reach out to your network. Other students, family, and professors are good resources, but it is often very beneficial for students to contact Miami University alumni on LinkedIn. Reach out to alumni who work in an industry you're interested in, at companies you want to work for, or in locations you want to move to. Ask them about their experiences. Many students are too shy to reach out to strangers, but the majority of alumni are flattered when someone reaches out to them and they want to share their experiences.
6. What services are available at the career center to help you in your job search?
Many services are available and can be found on Handshake and on the career center website, but the most important services for students include resume reviews, mock interviews and career fairs.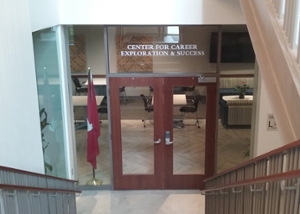 The new career center in the Armstrong Student         
Center
Having a professional look over your resume is crucial because, while it is helpful to have a friend or family member read it, it is better to have someone very familiar with employers and their hiring process to critique it for you. This is a very important early step in your career search process. During the school year, Kelly Thompson holds weekly career advising hours (you can request an appointment in Handshake) in Benton Hall. Career assistants--trained upper-class students--also hold drop-in resume reviews various times in Benton Hall.
The service ranked as most helpful by students, however, is the mock-interview. Students can work off their interview anxiety in a zero-stakes situation while receiving constructive feedback.
In addition, something many employers do before Fall Career Fair and Spring ICE is to hold information sessions or networking events. These events are crucial to getting an "in" with a company. For example, all four of this summer's IBM interns from Miami credit going to IBM's pre-career fair networking event as vital to starting their IBM journey. While going to Career Fair is vital, especially if you are interested in companies that don't hold extra events, information sessions and networking events give you time to really learn about a company and get yourself noticed by recruiters.
7. What should you do if you have more questions?
There is a plethora of information on all things career-related on both the career center website and on Handshake. This will get you started.
You can also sign up for a career advising appointment on Handshake. The career center office is now located in Room 0045 of the new wing of the Armstrong Student Center, making it much more convenient for students to get to. When you go to your career advising appointment, make sure you are prepared. Always bring a resume with you, and other materials you would like your career advisor to see, such as cover letters and job postings that interest you.
By Paige Smith