Tech Fee money updates labs and enriches educational experience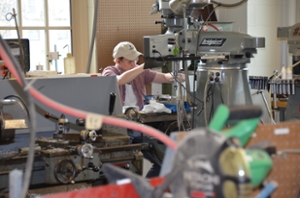 Aug 28, 2017
By Paige Smith
Miami's engineering and computing labs are receiving some exciting updates thanks to $266,000 received from the Miami tech fee pool.
The Miami tech fee that students pay gets split up three different ways. Part of the pool goes to IT services, who also administers the funds. Part goes to professors, staff, or students who are awarded the money for a specific project as part of a competitive process, and the rest is split amongst the Deans of each of the colleges to be used on new technology. 
Twelve1 engineering and computing projects received funding for the 2017-2018 school year. Eleven were submitted by professors, and one was submitted by a student on behalf of EWB. All of the departments will get at least one new piece of technology this year.
Some of the updates were out of necessity--the current BurstTester in the Paper lab is fifty years old, and is practically unrecognizable when compared to the modern BurstTesters that paper engineers use in industry. It is awkward to use and students find alternative methods to get data, even though BurstTesters are very common in real-world paper science. A new BurstTester will help students learn to use the modern technology.
Other pieces of equipment allow Miami to produce high-quality research. One such piece is a multifunctional tribological test frame to test friction and wear. This device has the ability to measure properties at the nanoscale level, greatly improving the amount of data that can be collected related to properties of materials. 
Colin Atwater, an undergraduate member of Engineers Without Borders, also received funding in order to purchase a PM 2.5 portable particle counter. This will allow EWB to measure air pollution in indoor environments. Because air quality is such a major factor in overall health, this piece of equipment will help them provide healthy engineering solutions to communities abroad.
While most of the money that has been distributed for technologies within CEC has gone to faculty, Atwater's allocation highlights something important to remember--students can apply to get their technology projects funded as well. This is an underutilized opportunity for students to be able to fund their own research projects. Proposals for tech fee funding are accepted in February of each academic year and funds are disbursed in July and August.
1The projects funded are:
Plate reader for CPB labs
Actualization of robotic arms for the CISM laboratory
Incubator for Biomaterials Lab and tissue culture experiments
Enhancing teaching and laboratory capacity of the undergraduate Manufacturing Processes course by acquiring a force dynamometer
Addition of motion control capability by adding mechanical actuators and Servo Drives to existing Rockwell PLC controls for 436 lab
Multi-functional tribological test frame for friction and wear
Atomic Absorption Acquisition for CEC
Vibration testing of 3D printed design prototypes for MME courses and design projects
PM 2.5 portable particle counter;
Mechanical test frame for MME materials lab
Replace BurstTester in paper testing lab
Beacon-Based large touch screens for student team collaboration and learning