Redhawk Racing gears up for competition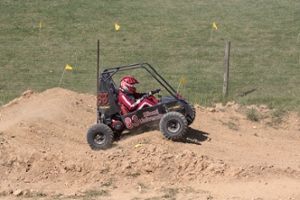 Sep 22, 2017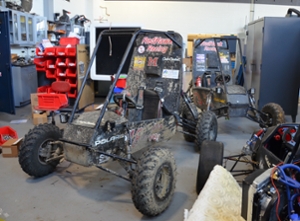 The two Baja cars that will be competing for
Miami in the 2017 Midnight Mayhem Competition 
Redhawk Racing will be competing in the Midnight Mayhem race in Louisville this weekend.
Baja SAE requires collegiate teams to build their entire off-road vehicle. Miami's team builds a new car every two years, and the two newest models will be racing in this event.
In most Baja SAE competitions, which can last four or five days, the events are split into dynamic events (to test out the car's abilities) and static events (in which students present on their design).
But this race, which is not an official competition for the Society of Automotive Engineers (SAE), will only include dynamic events and last just one day. It will end with a 6-hour endurance race, lasting from 6pm to midnight. By the time the race ends it will be completely dark.
One hundred and ten cars are signed up to compete.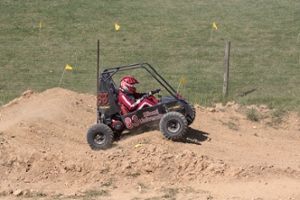 One of the Redhawk Racing cars competiting in a   
race last year

Miami's Redhawk Racing team is small by SAE standards, consisting of only ten to twelve engineering students. Some teams at other schools, such as the University of Michigan and Rensselaer Polytechnic Institute, can have over one hundred students working on their car, where each piece on the car is meticulously analyzed.
But with a smaller team like Miami's, each engineer can get a lot more hands-on experience.
"I think every one of us has touched every inch of [our] car," Erica Whaley, a senior and member of the Redhawk Racing team, said. The team is very proud of their cars, which typically score well in endurance events.
Best of luck to the Redhawk Racing team in the Midnight Mayhem competition!
By Paige Smith
Post Race Update: Miami University's two cars placed 4th and 23rd in the race overall, topping their 33rd and 64th place finishes last year.