Two CEC students receive Provost's Student Academic Achievement Award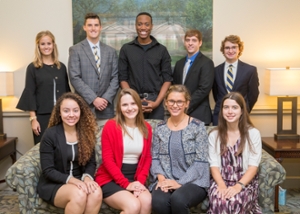 Oct 16, 2017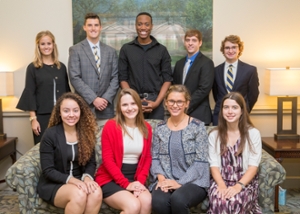 The winners of the Provost's Student Academic        
Achievement Award
Two CEC students were recognized for their contributions to Miami University's intellectual dialogue by receiving the Provost's Student Academic Achievement Award. These exceptional students were Carsen Cash (back row 2nd from left) and Alex Mazursky (back row 1st on right).
Cash is a chemical engineering major and premedical studies co-major. He has participated in undergraduate research extensively, both in the CPB department and, this summer, at the Vanderbilt University Institute of Imaging Science in Nashville, Tennessee. He is also a member of the honors program and a varsity track & field athlete.
Mazursky is a mechanical engineering major with a energy co-major and is also involved in undergraduate research. He conducts his research under Jeong-Hoi Koo on the applications of electrorheological fluid. He has also interned at both HBK Engineering, LLC and Bruner Corporation. 
Cash and Mazursky are two of the nine students overall receiving this award. Each student receives a certificate and a $1,000 scholarship.