MU CAT Research Symposium a Success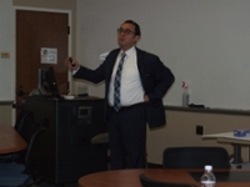 Jan 30, 2018
The Miami University Center for Assistive Technology (MU CAT) hosted its first ever research symposium on January 25th and 26th.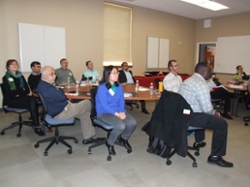 Miami faculty discussed the topic "Engineering better Medicines." The symposium featured two keynote speakers:
Malaz Boustani, MD, Richard M. Fairbanks Professor of Aging Research at the Indiana University School of Medicine. In addition to being a medical doctor, he is an expert in AI and works to bring together these two disciplines for research into aging and brain health.
Amit Bhattacharya, PhD, professor at the University of Cincinnati and Founding Director of the Biomechanics-Ergonomics Research Lab. He is an expert in environmental health, with particular interest in occupational health.
The symposium also ranged in topics including "Real-time Postural Prediction of Motion Sickness" by Dr. Jay Smart of the Psychology department and the "Mechanical Characterization of Hip and Knee Bearing Material" by Dr. Fazeel Khan of the Mechanical and Manufacturing department.

MU CAT director Amit Shukla says "This event was to bring together multi-disciplinary and visionary teams of researchers at Miami to work on collaborative research projects under a Grand Challenge topic - Engineering Better Medicine. We are excited about many trans-disciplinary opportunities for our faculty and their students."
By Katie Emery