Spring ICE brings 215 employers to campus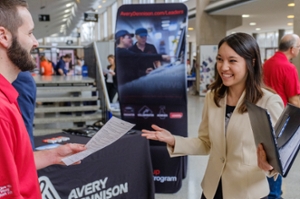 Feb 28, 2018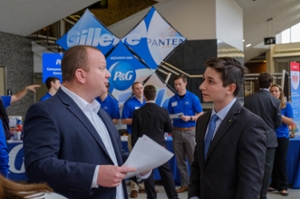 Procter and Gamble, headquartered in Cincinnati,
connected with students at Spring ICE
The Spring Internship and Career Expo, better known as Spring ICE, brought 215 employers to campus on February 22. Ninety-one of these employers were specifically looking for College of Engineering and Computing students.
Every type of company was available to meet with every type of student. Some were large, multi-national corporations, such as Textron, IBM, Avery Dennison, Tata Consultancy Services, and Procter & Gamble. Some were small, local businesses, like Pressed Paperboard Technologies and River Metals Recycling. Many of the company representatives in attendance were Miami grads and eager to meet with current students.
For many students, attending Spring ICE was just the first step to landing their dream internship or job!
By Paige Smith