Eight women in computing go to TRIWiC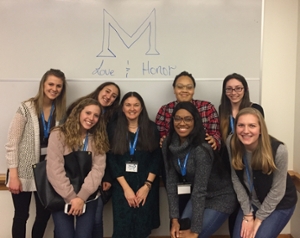 Feb 12, 2018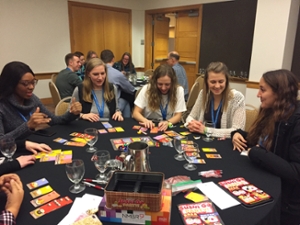 Miami students play board games at TRIWiC           
Seven Miami students were sponsored to attend TRIWiC—The Tri-State in Computing Conference, a bi-annual celebration of women in computing, this past weekend.
With them was Karen Davis, associate professor in the department of computer science and software engineering. They joined 210 others from 19 schools and 24 organizations from Ohio, Kentucky, and Indiana.
"It was really affirming to be in a room with so many other women interested in computing," Davis said.
The students, who were invited to attend through their membership in ACM-W (the club for women computer scientists at Miami), enjoyed technical talks, workshops, industry and grad school panels, and a job fair.
There were also some high-profile guest speakers, including:
Liza Mundy, the New York Times bestselling author of Code Girls: The Untold Story of the American Women Code Breakers of World War II
Wendy Lea, CEO of Cintrifuse, a public private partnership to develop Cincinnati's startup community
By Paige Smith