Jon Puz solves healthcare challenges with entrepreneurship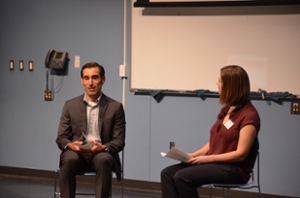 Mar 16, 2018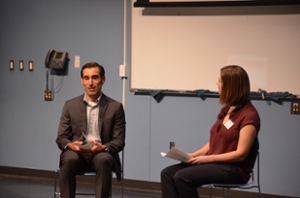 Jon Puz and Elaine Gossard at the Socially
Engaged Engineering and Computing Colloquium 
You have three companies: One provides diagnostic technologies for communities in the developing world, one utilizes big data to improve hospital efficiency and improve customer experience, and one helps increase medication adherence among patients.
What do these companies have in common?
Two things. One, they all help improve healthcare. Two, they were all built, in part, by Jon Puz.
A dynamic career
Puz is a 2003 Computer Science and Systems Analysis grad from Miami University. At Miami, he was very involved with the student advisory council and ACM, as well as working at the Miami Help Desk, fixing computers for Miami students and staff. He also played club soccer.
After graduating from Miami, he worked at Deloitte Consulting, where he was involved in their healthcare division, and eventually got his MBA. Now he works at Harvard as the Blavatnik Fellow Entrepreneur-in-Residence, helping the clinical staff in Harvard's teaching hospitals get their technical innovations to patients, or "from bench to bedside".
Even though he has transitioned from the technical aspects of healthcare IT and focuses on the business side, his education at Miami was invaluable to him.
"Miami provided the foundation for my career," Puz said. "It gave me the technical skills, but even more so the critical thinking, problem solving, and communications skills I needed to be successful."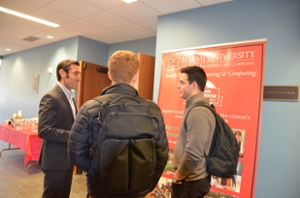 Jon Puz answers questions from students                  
An exciting return
Puz returned to Miami yesterday, March 15th, as the speaker at the Socially Engaged Engineering and Computing Scholar-in-Residence Colloquium. He gave a question-and-answer style talk called "My Grand Challenge: Healthcare Entrepreneurship".
"We as individuals have an opportunity to do good in the world, to make a difference," Puz said, "and we get the skills at Miami to make a fulfilling and meaningful impact."
The best parts of being back at Miami, according to Puz, are seeing the things that have changed since he was a student here, and also seeing the things that haven't.
He's enjoyed catching up with professors he'd had as a student—including Jim Kiper, Doug Troy, Valerie Cross, and Ann Sobel.
But it is equally as fun to see how much the College of Engineering and Computing has grown. Since 2003, CEC has grown to 2000 students, has changed its name, and has moved into the new engineering complex (which it has also somewhat outgrown, as evidenced by the expansion into Hughes Hall).
"Miami has tremendous resources," Puz said. "There couldn't be a better time to be a Miami student."
By Paige Smith