Miami students compete in Stryker robotics competition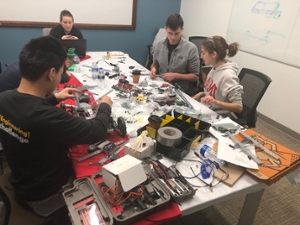 Mar 28, 2018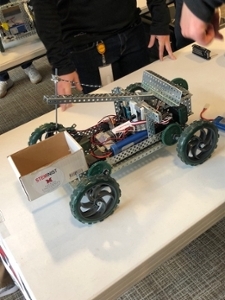 Miami University's robot in the            
Styker Engineering Challenge
Four Miami students competed in the annual Stryker Engineering Challenge competition for the first time ever over spring break.
The Stryker Engineering Challenge was held March 22-23, 2018. Six collegiate teams competed, and the winners were extended internship offers for Stryker in 2019. Freshmen, sophomores, and juniors were eligible to compete. The competition aimed to evaluate students' mechanical and circuit design, coding, and project management skills.
The four Miami competitors—Lucy Rukstales, Brent Reichert, Michael Gunderman, and Hiep Le—along with coaches Amit Shukla and Elaine Gossard, traveled to Stryker's Headquarters in Kalamazoo, Michigan.
There, they had three challenges. In the first, students solved written, mathematical problems. In the second, they built a tower out of basic materials like marshmallows and toothpicks. And in the last one, they built a robot.
The students had 15 hours to build a robot that could pick up people-shaped magnets and deposit them in their houses (they called this Stryker Uber). To get people into their houses, the robots had to open doors using light signals, completing circuits, and pushing buttons.
Although the Miami students did not win, they performed well against five other teams, some of whom had been competing in this competition since it started seven years ago.
Next year, Miami plans to send another team.
By Paige Smith