ComEd invites the SWE to Chicago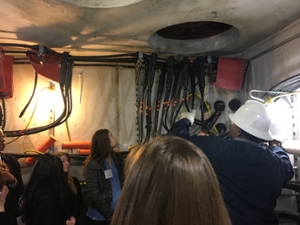 Mar 08, 2018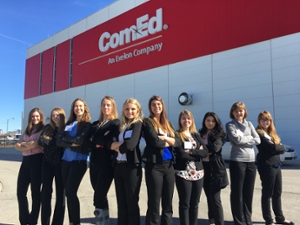 The Society of Women Engineers toured ComEd,    
the company that gives light to 2/3 of Illinois'
people
ComEd—one of the largest power companies in the United States—invited Miami's chapter of the Society of Women Engineers (SWE) to meet them in Chicago.
Last week, ten students, two chaperones, and Marek Dollár, dean of the College of Engineering and Computing, visited ComEd's headquarters in Chicago.
They were invited by Miami University alum and ComEd CEO, Anne Pramaggiore. Pramaggiore was on campus last year to give the keynote speech for the College of Engineering and Computing's 2017 commencement.
The students arrived Thursday evening, where they were treated with authentic deep dish pizza (Lou Malnati's) and a trip to the Goodman Theatre to see a play.
Friday morning the students, Kelly Thompson (career advisor for CEC) and Keisha Norris (academic advisor for CEC) toured ComEd's facilities, learning about the work that is done to ensure two-thirds of Illinois' population gets their power every day. This included a demonstration on how to climb a power pole to do repairs and a model of the inside of a manhole, where underground wires are repaired. Electrical work can be very dangerous, and students learned that before work crews descend into a manhole, the air quality must be tested to make sure there are no toxic gases in the hole.
After the tour, a panel of female VPs participated in a panel in which they discussed their backgrounds, careers, and the challenges they've faced. Students got the opportunity to ask the women questions about how to be successful in industry.
"The panel demonstrated ComEd's commitment to giving employees an opportunity to break through the metaphorical glass ceiling," Dean Dollar said. "It gives [the students] a sense of what kinds of careers they might have and sensitizes them to the need to consider career opportunities early on."
Presentations were given by women engineers at ComEd on their work. A challenge for ComEd engineers moving forward is how to incorporate alternative energy sources into the electrical grid, where power moves in on direction—from the power source to the customer. As more people adopt solar panels and excess energy needs to be transferred the other way (from customer to the power company) the grid needs to adapt to multi-directional power flow.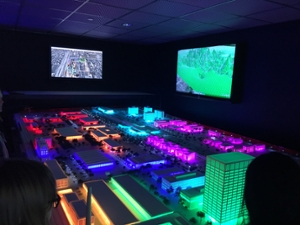 SWE went to IIT and learned about their                  
microgrid
Another area of possible development for ComEd are the development of microgrids. Microgirds are small grids that have their own power source but users are also connected to the main grid. ComEd executives realized that during Hurricane Sandy, areas connected into a microgrid did not lose power, while areas only connected to the primary grid did. No power company in the country has incorporated microgrids into its primary grid, and ComEd believes that doing so may be key to severely limiting power outages, especially during natural disasters.
There is one microgrid in Chicago. This microgrid is on the campus of the Illinois Institute of Technology (IIT). Dean Dollár, who was a faculty member at IIT until coming to Miami in 2000, joined the students as they traveled there for a brief tour. Students learned how IIT's microgrid can be manipulated to allow certain buildings on campus to retain power during an outage and how IIT is working to develop sustainable technologies as part of Smart Grid technology.
The night ended with a dinner with Anne Pramaggiore and other representatives from ComEd.
Saturday morning, before returning to Oxford, the students explored the Museum of Science and Industry.
"I love Chicago," Dean Dollar said. "I lived there for twelve years. The students were exposed to what makes Chicago a truly great city: food (ethnic food in particular), theatre (the Goodman theatre is one of two best in Chicago, and one of the best in the country), and intellectual life (such as the Museum of Science and Industry)."
"It was an awesome experience for young female engineers to see women leading in an unexpected field or career," Keisha Norris said, "I immediately thought of all the ways I could use this experience when advising my students when they ask about careers and application of the class work they are doing."
By Paige Smith