Qihou Zhou is named Miami University Distinguished Scholar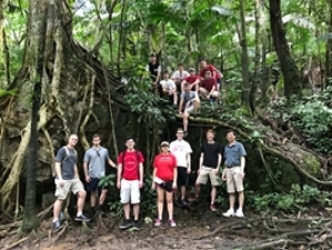 Apr 04, 2018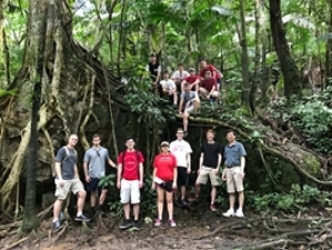 Qihou Zhou leads the annual CEC study abroad
trip at the Arecibo Observatory in Puerto Rico
Qihou Zhou of the Electrical and Computer Engineering Department was selected as a 2018 Miami University Distinguished Scholar.
Up to three faculty members can be selected each year—one in humanities and creative arts; one in applied and natural sciences; and one in business, education, and social sciences. Tenured and tenure-track professors are nominated by their peers for this award.
Zhou has been with Miami since 2002 and has been the chair of his department since 2013. Before that, he was a researcher at Cornell University—National Astronomy and Ionosphere Center in Puerto Rico. He worked at the Arecibo Observatory, where he now takes students every winter as part of the Miami University Radars and MATLAB in Puerto Rico study abroad program.
Zhou's research interests include radar remote sensing of the ionosphere, digital signal processing, and space science.
Zhou is considered a pioneer in using radar technology to study meteors and meteor orbit.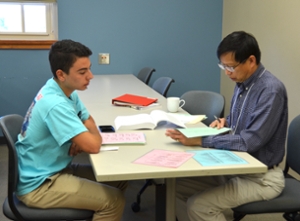 Qihou Zhou advises a first year student
He has also created a technique to improve remote sensing technology to decrease atmospheric noise and increase the amount of research that can be done in remote parts of the ionosphere.
At Miami, Zhou's research has been supported by a number of organizations, including the National Science Foundation and the Air Force Research Lab.
In addition to his research, Zhou is devoted to educating the next generation. He teaches several courses, including biomedical signal analysis, radar signal processing, and MATLAB & applications. He also mentored a group of Talawanda high school students as they build an antenna with which to study the atmospheric effects of this summer's solar eclipse.
Zhou will receive his award at the Faculty Recognition Ceremony on April 18th.
By Paige Smith