CEC welcomes 300 new engineers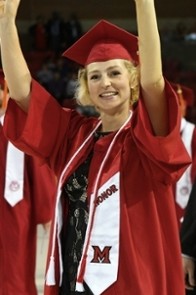 May 22, 2018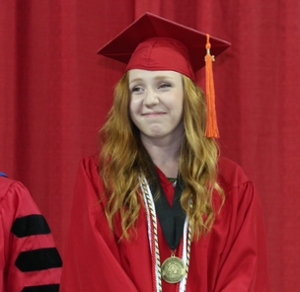 Courtney Wilt spoke on curiosity and community   
Miami University graduated three hundred and seventeen new engineers on Saturday at the 2018 Spring Commencement ceremony.
Student Speakers
Courtney Wilt, a chemical engineer with process control and paper science minors, focused on the importance of curiosity.
"At the end of the day we're using our appetite for answers to solve the world's problems," Wilt said, "Learning goes well beyond these brick walls: it becomes a way of life for the path we've chosen."
Wilt was followed by Zane Shreve, an electrical engineer with a computer science minor and student athlete, who talked about uncertainty.
"Uncertainty is inevitable… Uncertainty asks us to find solutions to problems that may not even exist yet. But thanks to our unique educational journey at Miami, we're all prepared to conquer that uncertainty, to allow our failures to motivate us, and to push us forward," Shreve said to his classmates.
Keynote Speaker
Greg Van Kirk ('91) is the co-founder of The New Development Solutions Group and was recognized by the World Economic Forum as the "Social Entrepreneur of the Year." He and his organization also led the first ever Socially Engaged Engineering & Computing in Guatemala study abroad experience this January.
He emphasized how so many people and groups fail because they let their intuitions and conventional wisdom guide their actions. He also warned against applying your knowledge to someone else's situation.
"Make your problem someone else's opportunity. Being a wise problem solver doesn't necessarily mean you are the one solving the problem. Put empathy in action and have the people closest to the problem solve it," said Van Kirk.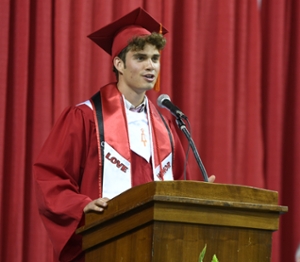 Zane Shreve spoke of uncertainty and adaptability
Class of 2018
Over two hundred and eighty students graduating this year chose to walk in the ceremony.
Dean Marek Dollár asked the students who have gone above and beyond to stand up and be recognized. Students invited to stand included:
Students with multiple degrees
Students with minors or certificates in leadership or project management
Students who completed socially engaged curriculum or extra-curricular activities
Students graduating cum laude, magna cum laude, summa cum laude, and with honors
Congratulations to the Class of 2018 for all their current accomplishments and their accomplishments to come!

By Paige Smith