Students, staff, and alumni unite at the 2018 Alumni + Friends Conference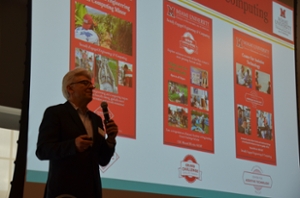 May 10, 2018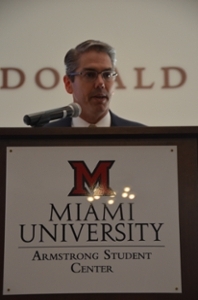 Alumni and hospital president Jay
Anderson was the plenary speaker
Friday
By Paige Smith
Alumni, students, and staff came together on Friday to attend the College of Engineering and Computing's Alumni conference this year.
The 2018 Spring Alumni and Friends Conference, held in the Armstrong Student Center, welcomed alumni back with various lectures and panels, with topic ranging from "Tissue Engineering Structure to Promote Bone Healing" to "Transition Skills from Academia to Industry" to "How DA, Visualization, and Robotics are Changing Landscape".
During lunch, Brett Black, a Miami Grad who now works at Worldpay, talked about the value of diversity in the workplace. He also gave out scholarships to Alyssa Melendez and Laurel Sexton, two sophomores in the computer science and software engineering department.
While 85 alumni came back for the conference, the "and Friends" part was certainly emphasized this year, with 21 faculty and staff members and 300 students in attendance.
Students loved the opportunity to meet or re-acquaint themselves with their professional counterparts, and to learn from their talks and panels. They also had the opportunity to network with many of the alumni the night before.
"I liked the networking event and was glad to see freshmen in attendance," one alumni said.
"I really appreciated the opportunity to network with staff, peers and students," said another.
Alumni who could not make it to this conference will get another chance to return to campus at the University-wide alumni weekend, which will be held June 7-10.  For those that plan a bit further out... the 2nd annual CEC Alumni & Friends conference will be held on Friday, May 3rd, 2019!