Nathan Rayens is an Astronaut Scholar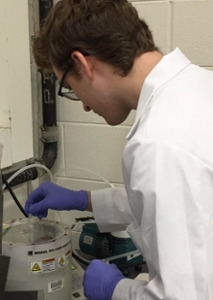 May 21, 2018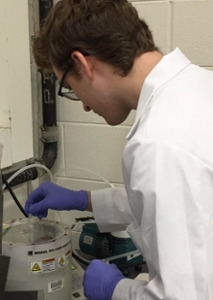 Nathan Rayens researching spin      
coating for lithium ion batteries
"Nathan [Rayens] has a genuine desire to positively change the world around him and the intellectual daring to do it. Nathan has the drive and talent that foreshadow a creative career leading to the advancement of scientific knowledge and technology."
~Tim Cameron, mechanical and manufacturing engineering department chair
Rayens was one of two Miami Students honored this year as an Astronaut scholar. The other was Robert Krueger, a math and physics major.
The mission of the Astronaut Scholarship Foundation is to support college students in STEM fields who will help the US keep its edge in technology and scientific advancement. Students chosen for this award are strong academically and have research experience.
Rayens has done two research projects at the University of Kentucky. These projects are:
Researching spin-coating materials for use in lithium ion batteries
Developing a MATLAB tool to estimate material properties from aluminum micropore geometry
After Rayens graduates from Miami University in 2019 with two degrees (one in mechanical engineering and one in piano performance) he intends to get a PhD in materials science and then pursue a career in either research and design or academia.

By Paige Smith