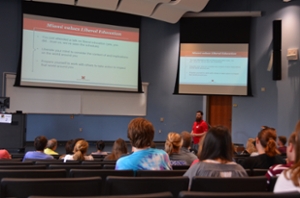 May 30, 2018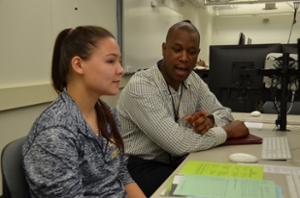 Advisor Troylin Banks helping a student register    
for classes
CEC is welcoming a record-breaking class this year!
In the next few weeks, 492 freshmen engineers and computer scientists will have their freshmen orientation on Miami's Campus, meet with advisors, and sign up for their first semester of classes. This is the largest class of CEC freshmen ever for Miami.
More students are choosing to be software engineers, engineering managers, and computer scientists than ever before, with computer science being, by far, the most popular of the ten majors offered by the college. Over a quarter of incoming students intend to get a bachelor's degree in computer science.
These students will become part of the College of Engineering and Computing community that consists of over 2,000 students, and the greater Miami University community of 17,000.
During orientation sessions (the first started on May 30), students will learn about both academic and non-academic parts of being a Miami student. They will sleep in dorms, eat food on campus, and socialize with other incoming freshmen.
Welcome Class of 2022. We look forward to the next 4 years with you!
By Paige Smith