Craig Hanson's materials research might affect how we study DNA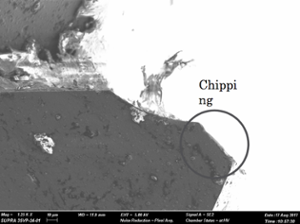 May 04, 2018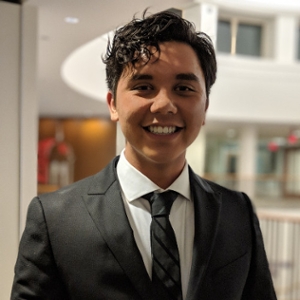 Craig Hanson is optimizing manufacturing
methods for polycarbonate glass
Craig Hanson's material science research could have long-lasting impacts in the way we study DNA.
The junior engineering management and manufacturing engineering double major is studying how different manufacturing parameters can affect polycarbonate glass' usability in DNA microarrays.
He works under the guidance of Muhammad Jahan, assistant professor in the mechanical and manufacturing engineering department.
Why are DNA microarrays important?
DNA has been a hot topic in the media recently as police officers use DNA to solve decades-old criminal cases across the country. But DNA can do so much more than help catch bad guys--the info contained in genetic sequences can be used to identify and treat diseases, study aging, make evolutionary connections, and more. There is so much scientists can learn from DNA, and some of this research is best done with a DNA microarray.
DNA microarrays are used to measure gene expression and to compare different sets of DNA. These are often made from polycarbonate glass. Microchannels are created on the surface of the glass to interact with the DNA. Researchers can then use the microarray to extract information.
Why is polycarbonate glass so hard to work with?
Polycarbonate glass is hard to work with on such a small scale. It has a tendency to become brittle and break during manufacturing, and it is abrasive on tools used to shape it. The finish on the surface can be particularly bad, which is unfortunate when it needs to be used on the micro-level.
Traditionally, microchannels are made in through etching and chemical reactions on the surface of the glass, but these use harsh and dangerous chemicals.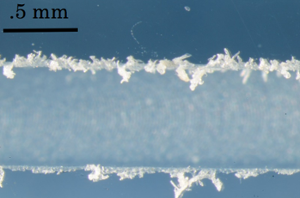 Under a microscope, Hanson analyzed the burrs
created on the glass under different circumstances
How is Craig Hanson changing this?
Craig Hanson is working on studying how milling can be used to create microarrays. Milling in generally not used on polycarbonate glass because it tends to break it, but recent studies have indicated that milling can be done when the glass is thin enough. Milling is a common manufacturing method, and easier and safer than chemical treatment of the glass.
He has tested force and depth of cut, feed rate of materials, and tool wear in milling to discover the optimal conditions to make microarrays.
In October 2017, Hanson traveled to ASME's Dayton Engineering Sciences Symposium to present his work.
This month, Hanson was notified he won the 2018 Best Presentation in the undergraduate division, and he was invited to an awards ceremony to recognize his work.
Hanson plans to continue his research into the upcoming school year. While he has identified optimal material feed rates and cutting depth, he is working on identifying the surface roughness between his methods. Ideally, his work will eventually influence how polycarbonate glass is manufactured. 

By Paige Smith