Student Spotlight: Kayla Knowles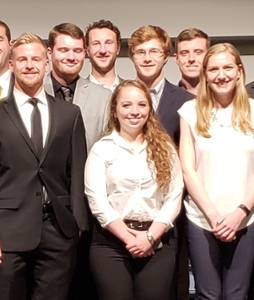 May 01, 2018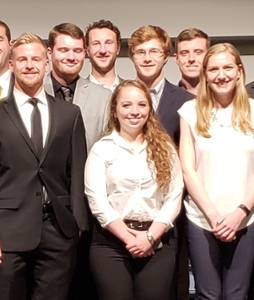 Kayla Knowles (center) and her team were
2nd place in the MME department at the
senior design expo
Kayla Knowles does a little bit of everything.
Knowles interned at Schneider Electric and Avery Dennison, where she has developed her skills as both a manufacturing and a process engineer.
She is a member of Tau Beta Pi, Miami University's only engineering honors society. She is also a Tri-Delta sorority sister, with whom she helped raise tens of thousands of dollars for St. Jude Children's research hospital.
She also serves as a teaching assistant for Fluid Dynamics and Machine & Tool Design, two upper-level classes required for mechanical engineering students.
And, after she graduates in May, she will be an engineer with Parker Hannifin. 
She has done so much during her time at Miami, but above all she says that the most important things from her Miami experience are the relationships she has built and all the amazing people she has met.
By Paige Smith