Two Miami teams place in DOE's Race to Zero Competition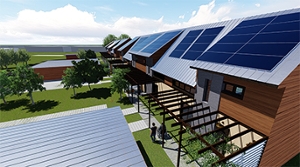 May 18, 2018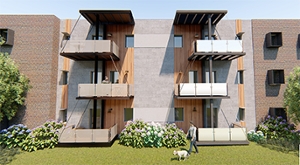 Freedom's Path to Zero housing for homeless veterans
Miami students took both first and second place awards in the 2018 U.S. Department of Energy Race to Zero Competition.
The two Miami teams competed against thirty-eight other teams from places as far away as India. This competition challenges college students to create zero-energy buildings, while working with outside builders and community developers.
Team EcoEdge entered the small, multifamily category and received first place. Their design, Freedom's Path to Zero, was designed to house veterans at the VA Medical campus in Chillicothe, Ohio.
Team members include mechanical engineering student Trevor Hayes and architecture students Nicole Rusk (team lead), Jacquie Edwards, McKenna Martin, Joao Guilherme Nobrega de Castro, Andrew Porten, Jenny Scarborough, and Tingyu Zhang.
Team Optimize received second place in the attached housing category. Like Team EcoEdge, they also chose to focus their efforts on helping members of the armed forces, focusing on military family housing at Wright Field in Dayton, Ohio. The Wright Path to Zero was designed by engineering management major Andrew Maloney, mechanical engineering major Justin Wright, and architecture majors Margaret Woolf (team lead), Shuting Chen, Alanna Kuether, Danny Nolan, Kelly Richter, and Peter Witt.
In addition to uses of sustainable design concepts and sources of renewable energy, both teams worked to create housing designs that were universally accessible, regardless of disability.
This was Miami's second year having student teams in the competition. Last year, a team received second place in the small, multi-family category.
By Paige Smith