Seventy-seven student teams present at the senior design expo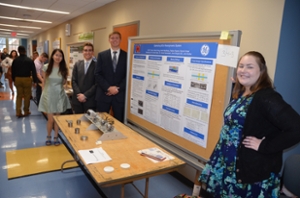 May 11, 2018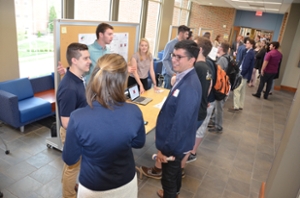 Students shared their work at the 2018 Senior         
Design Expo
Where can you find an arsenic biosensor, a solar assisted drone, and parking space locating app? At the 2018 Senior Design Expo!
The Senior Design Expo is the culmination of each department's engineering capstone classes, and allows students to demonstrate what they have learned in four years through their solutions to an open-ended design problem.
Students have a two credit hour class to discuss ideas and listen to lectures, as well as working closely with a faculty advisor on research and lab work. Ultimately, however, it is up to students what they are going to design or build over the course of two semesters.
Also presenting at the expo are the participants in the Center for Assistive Technology Design Competition.
Each department selects a top team and the Engineering and Computing Student Council (who hosts the event) chooses their favorite team as well.
Winning Teams this year were:
MME: "Size Optimization of EpiPen" by Andrew Garcia, Morgan Humphreys, Joshua Peak, Gretchen Thomas
CPB: "Building Enclosure and Control System for Artificial Respiratory Device Setup" by Alex Demers, Jiafeng Wang, and Ethan Wolf
CSE: "Accessibility Map Application" by Emily Richmond, Natalia Jardack, Allison Cline, and Ryan Potts
ECE: "Security and Spoofing in Data Transmission" by Amanda Ryerse, Adam Stroh, and Scott Lee
MUCAT Design Competition: "Visually Impaired Mobility System" by Shifan "Oliver" Luo, Nicole Sherman, Carlos Garcia-Fuentes, and Rachel Kevdzija
ECSC Choice: "Orange Peel-Based Adsorbents for the Removal of Heavy Metals from Water" by Alyssa Visalli, Rachel Anderson, Griffin Turnbull, and Itoro Akpakpan
By Paige Smith