Engineers Without Borders recognized with Education Award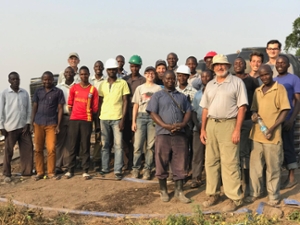 Jun 12, 2018
Through their hard work and collaboration with professionals, Engineers Without Borders was able to be recognized in the Education Award Competition.

Last week Engineers Without Borders was recognized with the Engineering Education Award in an academic poster and paper competition hosted by National Council of Examiners for Engineering and Surveying.This award recognizes college engineering programs who engage in collaborative projects between engineers and students.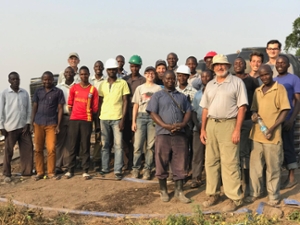 Students In Uganda with people from Kabingo       

In this competition, they were 1 of 8 schools that were recognized out of the 97 submissions from other engineering colleges across the country. The chapter won $10,000 for their work designing a solar powered water pumping system in Uganda.
"Our project was unique. A lot of schools were doing water based projects, but they were not as involved as ours. Our humanitarian based project worked with professional mentors and got their advice for every step," Brent Reichert, junior mechanical engineering major, explained.

In addition to Reichert, Becca Kheiry, Lucy Rukstales, Anne Poindexter, and Lexie Adams were helped create the submission for this award.

The team is planning on using the money to cover infrastructure costs for the water pumping system they designed. They are looking into items such as concrete, piping, and solar panels that could aid their future success of their water system.

They hope that that with this money they will be able to start implementing their project, and continue to help the communities within Uganda.
By Maggie Cavanaugh