Orientation starts for first year students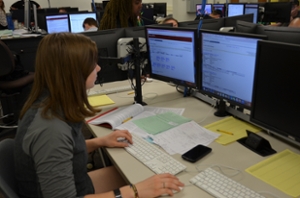 Jun 14, 2018
Since the end of May, the new class of first year students have been traveling to Miami's Campus for their First Year Orientation Session.
These students spend two days on campus eating in the dining hall, sleeping in the dorms, and meeting other first year students.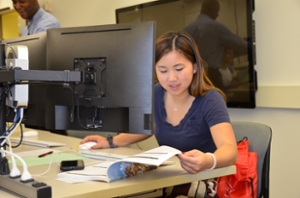 Kerri reviewing her class selections                                 
Besides just getting acquainted with the university, these new students register for classes. On the second day, students arrive to Benton Hall to meet with departmental faculty to understand what courses they could take for their first semester. Then it is off to the computer labs where academic advisors including Keisha Norris and Bryn Kirkmeyer help the students understand expectations for the courses that they will be taking.
Though each student's reason for coming to Miami is different, a common trend among all is the desire to be apart of a welcoming community, with a beautiful campus and strong academic environment all in all providing them with a bright prospects for their future.   
Tori Raulin, a software engineering major from Columbia, Maryland, chose Miami because it allows her to further her interest in programming that she developed in high school, and continue her passion for sports by playing on the field hockey team.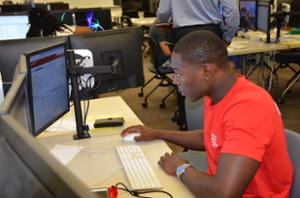 Marshall registering for classes                                   
Marshall Philmon, a Cleveland, Ohio native, wanted to study bioengineering because it combined his love of biology with the "growing field of engineering." When asked why he wanted to attend Miami, Philmon stated that Miami had two important things: a rigorous academic environment, but also welcoming and inclusive social outlets.
Kerri Peterson learned about Miami because many of her relatives attended Miami and loved it. This bioengineering major and pre-med co major is excited to learn more about engineering in the fall. "Not only do I love the science portion of engineering, I am interested in learning the design aspect of this field that I could use in my future."
Tori, Marshall, and Kerri represent some of the 492 engineering students that will be coming to Miami's campus this month to attend orientation. These students are excited to start a new chapter of their lives at Miami.
To view more pictures of the CEC class of 2022 go to our Facebook page!
By Maggie Cavanaugh