Nick Schmiesing places in Student Paper Competition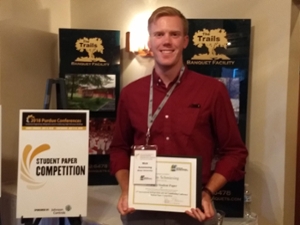 Jul 24, 2018
Nick Schmiesing, a mechanical engineering graduate student, took 3rd place in the Student Paper Competition during the 17th International Refrigeration and Air Conditioning Conference at Purdue University.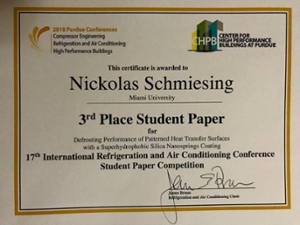 Schmiesing's award from the competition                
This international conference is held every two years and draws faculty, students, and industry experts from around the world. The student paper competition is a part of this conference during which six students are chosen to present their work during a session at the conference.
These 6 students are chosen from the 29 submitted and nominated by facility from each university.  The judges decide the top three based on the students' submitted paper and the presentation given during the conference.
Schmiesing's paper was chosen as 1 of the 6 finalists, and presented his research on the use of silica coating to increase the defrosting performance on aluminum surfaces.
He has been conducting this research for the past 3 years with the guidance of Andrew Sommers and Giancarlo Corti, professors in the mechanical and manufacturing engineering department. Schmiesing cites that his successful performance during the competition was attributed to "a number of beneficial results [from his research] and the uniqueness of the coating that allows [his] work to stand out."
This is Schmiesing's second time attending this conference, and he would like to thank his mentors for allowing him to attend and represent Miami at this conference.
By Maggie Cavanaugh, CEC Reporter