Students study thermodynamics in Europe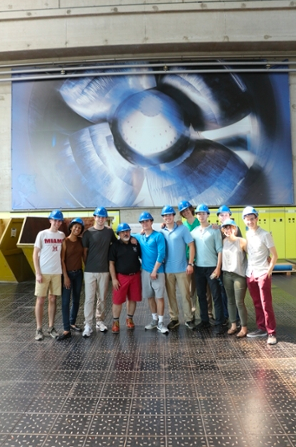 Jul 17, 2018
Engineering students traveled to Europe in June to learn about thermodynamics and fluid mechanics in Vienna, Austria.
This 6-week study abroad program was lead by faculty Amy Yousefi, professor in the department of chemical, paper & biomedical engineering; and Mostafa Modir Rousta, instructor in the department of mechanical & manufacturing engineering. This is their 5th year leading this program that is filled with both in and out of the classroom experiences.
During their time their, the students were able to take trips to different locations that related to their classroom topic.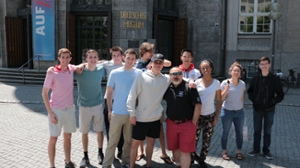 Students at museum in Munich, Germany               
The trips included:
the BMW manufacturing plant and BMW Museum in Munich, Germany,

the Volkswagen plant in Bratislava, Slovakia,

the Freudenau Danube hydropower plant in Donauinsel, Austria, and

the Spittelau Waste Incineration Plant and History of Natural Science Museum in Vienna, Austria
While in Europe the students were able to visit many places besides those on official trips. Students had the ability to explore different countries like Greece and England, and learn more about the culture of each of these places.
Through this experience students were not only able to learn about different engineering principles, but able to explore the diversity of different cultures.
"This was some of the students first time out of the country. This study abroad allowed them to see the different cultural values and environment interactions of other countries which was different from what they were used to," explain Modir Rousta.
If you are interested in studying abroad visit the Study Abroad Website.
By Maggie Cavanaugh, Communications Reporter