Travel to India during J-term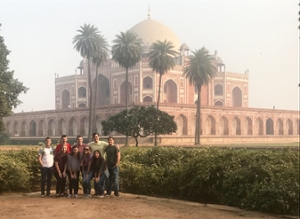 Aug 14, 2018
Are you interested in learning more about how engineering is conducted in different countries, while taking classes for your major? Consider signing up for the Engineering in Dynamic India study abroad program.

This three week faculty-led program exposes students to new ideas and the culture of a rapidly developing country. With a combination of course and professional excursions, students learn to understand that other countries and cultures are afflicted with a variety of differing problems that need adaptive and creative engineering solutions to solve.

The program will be conducted in two major cities in India, New Delhi and Bengaluru, with professional and city tours to different locations in India.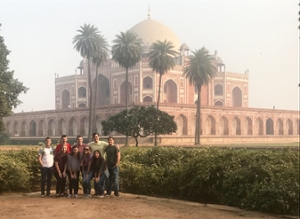 Students pose in front of a palace in India                
A special component of this program is that for a week of the program students will be hosted at Christ University in Bengaluru. This experience allows students to interact and be exposed to the education system within India and work with Indian students, while conducting a small project to solve a local problem.
During their time abroad students will be taking courses online that help them towards their major. Students have the opportunity to take CEC 460A, CSE/MME 341, or MME 213/CSE 262.

This study abroad program mixes both courses and culture, hoping that students have the opportunity to experience all that India has to offer during their 3 weeks there.

Besides taking courses, students will travel to different engineering, IT, and financial companies to expose students to the more professional aspect of India.

Through this program students will have excursions to places like the Taj Mahal and go on city tours to see the blend of ancient and contemporary India.

Amit Shukla and Kumar Singh, professors in the department of mechanical and manufacturing engineering, will be leading this study abroad.

They are excited to see the impact the experience has on the students. Singh explains "we hope that students will get to know India as a country and its diverse culture. Through the program students will be exposed to a global world filled with different challenges and industries. I hope that this program will allow students to be receptive to these differences and welcome new ideas."

To learn more about this program contact either Dr. Singh or Dr. Shukla, or visit the Study Abroad Website.
By Maggie Cavanaugh, CEC Reporter