Student performs micro-electrical discharge machining on Bulk Metallic Glass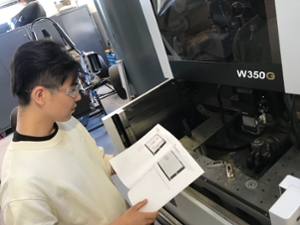 Aug 21, 2018
A senior mechanical engineering major is studying the behavior of Bulk Metallic Glass (BMG) through the use of micro-electrical discharge machining.
Chong Liu has been working with Muhammad Jahan, an assistant professor in the mechanical and manufacturing engineering department, since June to see the effects of minimal changes to the microstructure and mechanical structures of BMG.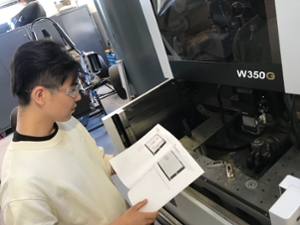 Chong working with his BMG in the lab                     
So, how is this research conducted?
Chong investigated the crystallization of the BMG and looks into the resistance of the material. He does this through the use of micro-electrical discharge machining, which is the process of finding a desired shape by forming the material using sparks. Once he is done, Chong identifies the compounds and chemical composition that changed in the BMG and recorded his findings.
He hopes that with his research he can see if micro-electrical discharge machining can be used to manufacture complex features in BMG with little changes to the properties of the material.
Through his research, Chong has learned more about micro-electrical discharge machining and  professional skills like "Technical report writing, data analysis and interpretation, project management, and presentation skills." He plans on using these gained skills in his final year at Miami. In addition,  Chong hopes to use this research in his pursuit of his masters degree in the study of Mechanical Engineering.
At the end of his research, Chong will submit a paper with his findings and present at the American Society for Mechanical Engineers' Manufacturing Science & Engineering Conference in 2019.
By Maggie Cavanaugh, CEC Reporter