Redhawk Racing placed 5th in Midnight Mayhem Tournament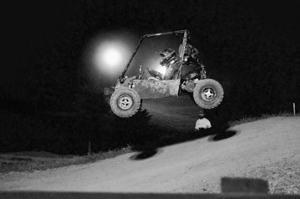 Oct 30, 2018
On October 12th and 13th Redhawk Racing was able to compete in Midnight Mayhem X, the world's largest exhibition for Baja SAE vehicles.
The team was able to place 5th out of 100 cars at the competition; however, that did not happen very easily. The team had to compete in a 4 hour endurance race, which lasts 100 miles, and heat races in which they competed against other schools.
The team believes that there are certain things about their vehicle that gave them a competitive edge. They were the only team in the competition to implement a manual transmission. This design choice and their experienced driver is what they believe gave them an upper hand during the competition.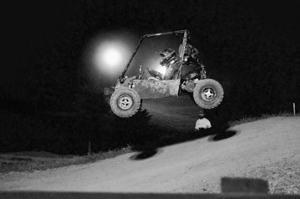 A photo of the team's car from the race                     
Before they could compete in any of these races they had to make sure that their cars passed many technical expectations and safety tests. These are put in place to ensure not only the safety of the vehicle, but to make sure it conformed to the rules of the competition.
The team did run into some challenges during Midnight Mayhem. The team spent the whole day of the endurance race trying to resolve mechanical issues that they noticed with their car. With hard, nonstop work the team was able to compete and be very successful in the competition.
Redhawk Racing is able to compete in 2-3 events every year. The other official SAE races vary and can be located across the country, but they always attend Midnight Mayhem. This year they will be able to compete in Tennessee with one of their newly built cars. This new vehicle provides a great opportunity for the team, giving them the ability to implement new designs.  
If you are interested in following Redhawk Racing's journey follow them on Instagram: @miamioh.racing!
By Maggie Cavanaugh, CEC Reporter