Three students are recognized with a CE Power scholarship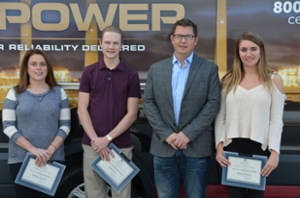 Nov 19, 2018
Recently three electrical engineering majors were recognized with the CE Power Scholarship for their interest in pursuing a career in the power engineering field.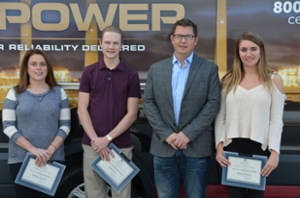 Three students receiving their scholarships              
Rachel Kevdzija, Dannielle Fassetta, and Sean Malloy, upperclassmen in CEC, were chosen based on their overall GPA and individual service. In addition, each student showed their commitment to joining the power engineering field through coursework, employment, or service.
Many of the students involvements made them excellent candidates for these scholarships.
Kevdzija is an active member of Theta Tau, a professional engineering fraternity, is the Vice President of the renewable energy club, and is involved as one of the organizers for the Women in Power forum that was held in October. Fassetta is a veteran of the United States Navy, and during her service worked on  the ship's medium and high voltage onboard systems. Finally, Malloy is the President of ECE's IEEE-HKN, an international honors society for electrical and electronic engineers, as well as, had an internship with FirstEnergy in Cleveland, OH.
All of these achievements helped these students stand apart from the rest, and made them great representatives of ECE and students of Miami.  Both the ECE department is proud of these students accomplishments, and thankful for CE Power for their support for the power engineering education at Miami.
By Maggie Cavanaugh, CEC Reporter