Senior mechanical engineering major won the Best Presentation Award at the Dayton Engineering Science Symposium (DESS)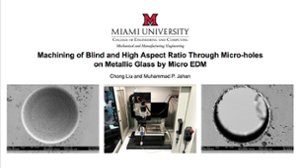 Nov 09, 2018
Senior mechanical engineering major, Chong Liu, won the Best Presentation Award at the Dayton Engineering Science Symposium (DESS) for his research on Micro Electrical Discharge Machining (EDM).
DESS is designed to help facilitate communication between the technical community and provide an event for researchers to showcase their work. The event included informational sessions, keynote speakers, exhibitions, and poster sessions.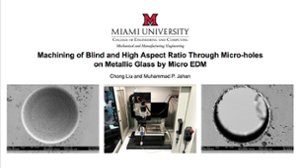 A picture from Liu's presentation                               
Liu presentation was on 'Machining blind and high aspect ratio through Micro-holes on Metallic Glass by Micro EDM.'  He discussed how metallic glass is a metallic material without crystal structure, and due to this characteristic, the metallic glass is way harder than the common metals. Liu studied how the EDM machine would remove the material by generating electrical sparks between the workpiece and electrode.
Liu believes that he was successful during his presentation because of the additional information he provided, as well as, how he presented his information. He was able to provide ample research to back his findings, and was able to conduct a smooth and attention-grabbing presentation. He felt that these are what put him ahead of other students.
Besides his presentation, Liu enjoyed connecting with other engineering students, and seeing  the different research they were all conducting. Through this event he was able to realize that on the "path of research [he] is never alone."
Liu wanted to thank Dr. Jahan and Roan Kirwin for all the assistance who helped make the presentation possible. Without any of this help, he believes his presentation will never be accomplished.
By Maggie Cavanaugh, CEC Reporter