Mechanical engineering graduate student wins oral presentation award at the Graduate Research Forum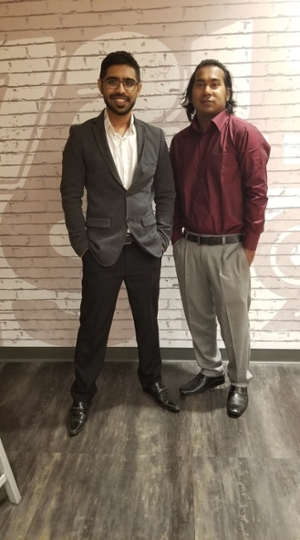 Dec 07, 2018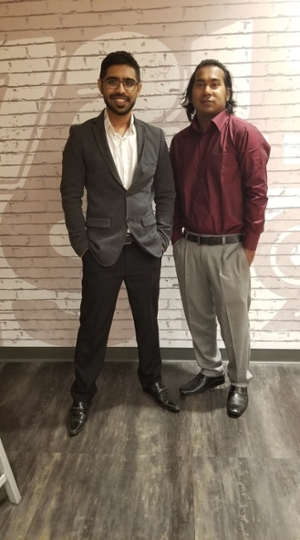 Rashef (right) at Research Forum
A graduate mechanical engineering student wins one of the top three oral presentation awards at the 2018 Graduate Research Forum.
Md Rashef received this award based on the judges' evaluation of his poster, presentation, and the quality of his abstract. For this award was granted $300 for his future professional expenses.
The Graduate Research Forum allows for Miami graduate students from all departments to share their studies and research with the university. These students participate in a poster and presentation session that are evaluated by faculty and alumni judges.
Rashef's topic was the "Effect of Surface Topography and Sub-surface Microstructure of Wire Electric Discharge Machined Ti-6Al-4V on its Biocompatibility." This means that he was investigating implant materials and their properties. He kept humor and reduced the amount of technical terms within his presentation to be able to keep his audience engaged.
Overall Rashef felt that the Forum was a very beneficial and impactful experience. He believed that it was "great exposure for graduate students of Miami and it works as nice communication platform among graduate students and professors in other departments," Rashef explained. In addition, he was honored to be recognized out of over 150 student presenters, making him realize the strength of his presenting ability.
If you are interested in learning more about the Graduate Research Forum or the graduate school at Miami, visit the Graduate Website.
By Maggie Cavanaugh, CEC Reporter