Students study away at Arecibo Observatory in Puerto Rico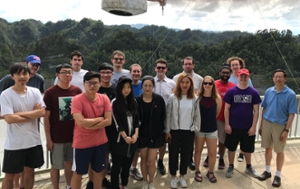 Jan 25, 2019
As J-Term comes to a close, we would like to reflect upon some of the experiences that our CEC students had over this term. One of these experiences was a study away experience to visit Arecibo Observatory in Puerto Rico.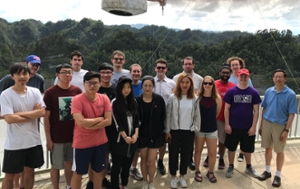 Students at the Arecibo Observatory                          
17 students were able to spend 6 days at the observatory learning about space physics and study radar technology. The students were led by professor and chair of the department of electrical and computer engineering, Dr. Qihou Zhou. Zhou worked at Arecibo in 2002 and stated, "coming back [to Arecibo] is always an exciting and inspiring experience."
In the last five years, CEC has hosted four programs visiting Arecibo and we are excited and proud that we are able to have our students be able to have such a beneficial experience.
The Arecibo Observatory is a radio telescope located in Arecibo, Puerto Rico. It is one of the world's largest single-aperture telescope. It is used in three major areas of research such as radio astronomy, atmospheric science, and radar astronomy.
To learn more about the Arecibo Observatory and the work that is being completed there, visit the Arecibo Observatory website.
By Maggie Cavanaugh, CEC Communications Assistant