Engineers Without Borders has a member recognized by the national organization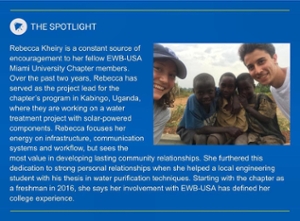 Jan 04, 2019
Before our students left for break, one of our CEC students was recognized for her work with Miami's chapter of Engineers without Borders (EWB). Rebecca Kheiry, a junior electrical engineering major, who has been in EWB since her freshman year.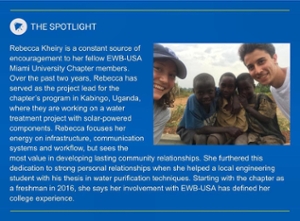 Article highlighting Kheiry                                            
Kheiry was highlighted in the national EWB organization's monthly newsletter for her work in Kabingo, Uganda. In Uganda, Kheiry served as the project manager for the chapter's water treatment project for the local community. In this project, she focused her time on building infrastructure, communication systems, and creating a workflow.
Even with all her hard work on the project, Kheiry found that the most valuable thing about leading the project was developing relationships within the community. This idea was furthered when she helped develop and create a local engineering student with his water purification thesis. She has found her time in EWB to help define her college experience.
We are so proud that Kheiry and our Miami chapter of EWB can be recognized for their amazing skills. If you are interested in learning more about EWB and what our chapter at Miami accomplishes visit their website at Miami EWB.
By Maggie Cavanaugh