Students conduct research and create a database for the Myaamia Center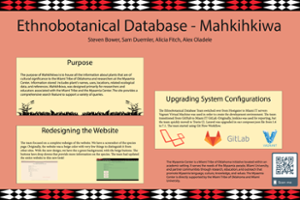 Apr 18, 2019
On April 23rd a group of four CSE students will be presenting their year long research at the Undergraduate Research Showcase.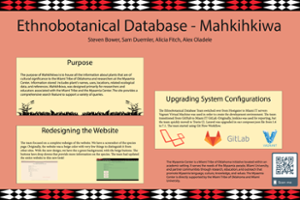 The team's final poster                                                    
The team consisted of Steven Bower, Sam Duemler, Alicia Fitch, and Alex Oladele. They conducted research for the Myaamia Center helping them build a Ethnobotanical Database. This database serves as a place for other researchers to store information about various plant species that had some impact or were used by the Myaamia people many years ago. The goal of the project was to be able to understand how the Myaamia tribe used these plants in their daily lives, through farming and cooking, to learn more about the history of the tribe.
Not only did the team create a database, but they learned many skills from this project as well. Oladele explained that he learned "the many tenants of the Software Development process and how to work in a team setting. I've also learned more about the Myaamia tribe and their history." However, the process of creating the database was not completed without any obstacles. The team explained that it was difficult initially to work with new technologies and services that did not have control over. Even though they faced this challenge, the team was able to gain assistance from Miami's IT and other contacts from the Myaamia center as well.
We cannot wait to see the team present, and to learn more about the Myaamia tribe and the team's contribution to preserving the history of the tribe.
By Maggie Cavanaugh, CEC Communications Reporter