CSE Students complete and present research in Undergraduate Research Showcase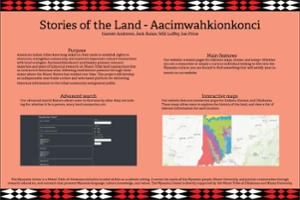 Apr 12, 2019
A team of four CSE students are planning to present their research in the Undergraduate Research Showcase on April 23rd and 24th.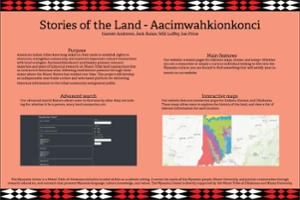 Image of the team's poster                                           
The team is composed of Garrett Andrews, Jack Bulan, Will Luffey, and Ian Price. Their project focused on the development of a website and searchable archive for delivering historical information about Myaamia Culture. The team took already collected data and information about the tribe, and coded a database for interested individuals to see correlations in the historical findings or to just learn more about the history of the tribe.
The team of students learn how to be able to create, host, and maintain a website. In addition, they were able to discover how to link a database and a website, which is critical for storing and retrieving information on a website platform. The students integrated and mapped the user experience of site to be able to retrieve more information about the platform.   
Though this project was a great learning experience, the team did face some obstacles during its completion. The biggest challenge that they faced was working with Laravel. Laravel is a free web framework software that can be used to develop websites. The team had to learn how to set up this software properly, and to work with it to develop what they needed. After learning to use this platform, the team progressed quickly to achieve their ultimate goal of creating the website.
We are very happy with how their project turned out, and love seeing students gain valuable skills through research projects at Miami. To get more information about the upcoming showcase, please visit the Office of Undergraduate website.
By Maggie Cavanaugh, CEC Communications Reporter