High Schoolers attend Miami to learn more about Robotics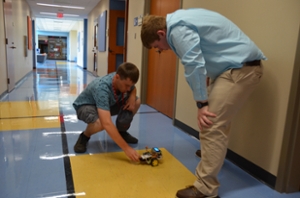 Jul 12, 2019
Over the next month high school junior and senior students will arrive in Benton Hall to participate in the robotics session of the Summer Scholars Program. 
Through this program, high school students are able to come to Miami's campus in two two-week sessions to learn more about what it is like to live on a college campus.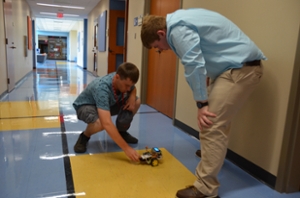 students preparing to test their robot
A portion of these students have had the opportunity to be instructed by James Leonard, adjunct professor in the electrical and computer engineering department. These students are able to practice their coding and robotics skills through this program to be able to see if they would like to pursue a future career in this area. 
Not only did they learn more about engineering, they were able to gain more knowledge about the typical college experience. These students have had the opportunity to sleep in the dorms and eat at the dining halls during their time at Miami, understanding what it is like to live on a college campus. In addition to the robotics program, students attended workshops like "College Life 101" and "College Study Skills and Success" that will help them prepare for college. 
At the end of their two-week session, student groups had their robots travel across the floor and turn, based on a code they wrote. At the same time, the robot would signal all of its actions with LED lights.
Not all students participated in the Robotics session. There were multiple other sessions offered to gage the areas of interest of the other students. Other session topics occurring during the two weeks included design thinking, business, and fashion.
To learn more about the Summer Scholars Program visit the program's webpage.
By Maggie Cavanaugh, CEC Communications Reporter