Student spends summer interning at Pilot44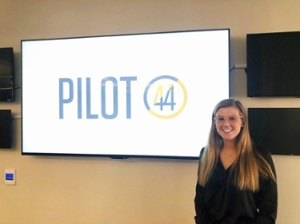 Aug 02, 2019
What are our students doing during summer break? Some get internships and jobs, others continue classes and study abroad. We love to see what each student decides to do when not at Miami!
Katie Trimble, junior chemical engineering and entrepreneurship co-major, is working as a strategy analyst intern at Pilot44 in San Francisco, CA.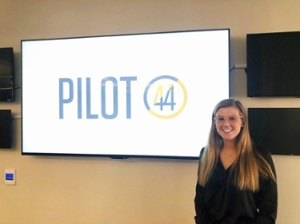 Trimble at Pilot44                                                   
Pilot44 is a digital innovation agency that helps solve complex business challenges for companies globally by building strategic partnership with emerging startups. In this role Trimble worked on a variety of projects. She got to work on new dental insurance platforms to increase dental sales, increase traffic by using unconventional mediums, and other projects.
One of the main takeaways Trimble had from this experience was being able to generate concrete outcomes for abstract projects, and utilize forward-thinking to avoid roadblocks in her work.
She was able to use creative problem solving, which she feels is very beneficial in the career path that she hopes to pursue. She hopes to aspire to become a dentist, and this experience allowed her to learn more of the business side of any company that she hopes to apply to her future career.
By Maggie Cavanaugh, CEC Communications Reporter