EWB travels to Rwanda to continue their sanitation efforts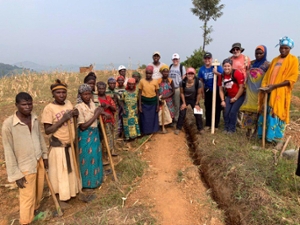 Aug 21, 2019
From the end of July to the beginning of August students in Engineers Without Borders (EWB) traveled to Munini, Rwanda to continue their work with sanitation efforts.
During their trip, they focuses on implementing a 3 kilometer pipeline, which would take water from a collection box to two villages. In addition to the pipeline, the team had to collect data to improve the sanitation in the village's secondary school.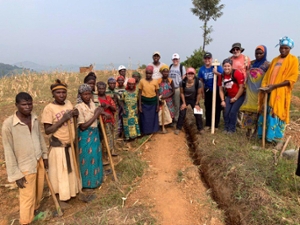 EWB team with some of the locals
These tasks were not completed without any challenges or roadblocks. The Project Manager for the trip, Sophie Dent, explained that not only do they had to modify their designs on site, they discovered "that children in the community tamper with the construction site if it is not properly covered." Though they did face some hardships, EWB at Miami has been partnered with this community for five years and has developed a strong bond with the people there. "We talk with community members not only about the projects, but are able to create friendships," stated Dent.
One major success that was seen during their time in Rwanda, was the successful implementation of the pipeline. "We were able to see the water flowing and the community lining up with their water collection cans. That was the most rewarding moment for EWB-Miami and one of the most amazing times to be around the community members," Dent exclaimed.
In addition to their hard work, the team was able to explore the community when not working. They were able to get Rwandan clothes, eat local food, and hike the beautiful landscape. During their time in Rwanda, the team was able to learn a lot about Rwanda's history and struggles that the community has faced.
We are so happy to see our students have an impact on the world. CEC cannot wait to see what is in store for EWB next!
By Maggie Cavanaugh, CEC Communications Reporter