CEC Welcome Picnic was a success!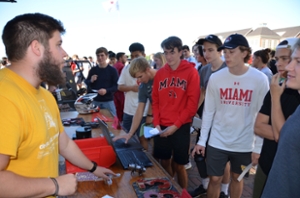 Sep 06, 2019
On September 5th, The College of Engineering and Computing held its annual Welcome Picnic. This picnic welcomes the new first year students into the college, and allows them to become more comfortable as they begin their time at Miami.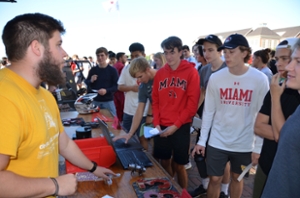 Students at the Welcome Picnic 
The picnic was held on the Benton Hall Patio last night, which is behind the College of Engineering and Computing's buildings. The event was ran by ECSC, Miami University Engineering and Computing Student Council.

The Picnic lasted from 5 pm to 7 pm where first year students were able to eat some free food, and met the many student organizations that are affiliated with the college. This picnic helps CEC students met each other, and get even more involved on campus.

There was a huge turnout at the picnic last night, and it was great to see all the first year students building connections here at Miami. They were able to get to know each other, as well as, other faculty and staff who came to the event as well.

We are so proud with how the beginning of the semester is going so far, and cannot wait to see what our first year students get involved in.
By Maggie Cavanaugh, CEC Communications Reporter