SEEC Scholar-in-Residence Dr. Donna Riley speaks about the future of engineering and society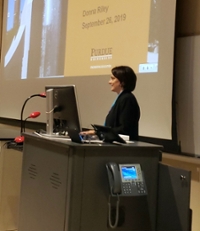 Oct 04, 2019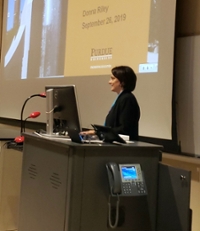 This week, Dr. Donna Riley, PhD, FASEE served as Miami University's SEEC Scholar-in-Residence. As a current Professor and Kamyar Hadhighi Head at Purdue's School of Engineering Education, she has contributed significantly to the engineering and computing fields throughout her career, and continues to do so.
After graduating from Princeton with a B.S.E. in chemical engineering and earning a Ph.D. in Engineering and Public Policy from Carnegie Mellon, Dr. Riley had big goals.
"I remember realizing at some point in my sophomore year that all of my faculty for my whole Major were going to be men," she said about when her passion first began, "It was kind of a hostile environment for women when I was going through...And then I thought, maybe I can [teach engineering] at a women's college, and at that time there were no engineering programs at women's colleges, but I had this idea." 
She achieved her dream, starting out as a founding faculty member for the Picker Engineering Program at Smith College, the first engineering program at a women's college in the U.S. 
Now, her focus is on how engineering can help better the world around is in a humanitarian sense.
During her colloquium, Dr. Riley discussed the future of engineering, as well as the value and potential the field has in the public's core values, including health, safety, well-being, trust, quality and integrity. This idea of using engineering to benefit the public in atypical ways fits the same principles of the SEEC community. 
"What seems really cool about [Miami's CEC department] to me is the way that engineering is embedded in the liberal arts university and the ways that you have chosen to create threads through, for example, the Socially Engaged Engineering and Computing initiative to really take advantage of the liberal arts environment and think about the engagement of engineering with a broader society." She said on her first impression of Miami's CEC department. 
We thank Dr. Riley for her visit to Miami University, and can't wait to see how our own SEEC community progresses. 
By Jenna Calderón, CEC Reporter