Women in Computing attend Grace Hopper Celebration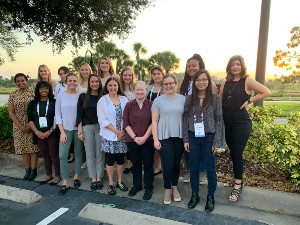 Oct 16, 2019
During the first week of October, 18 of our female students, accompanied by associate professor Dr. Karen Davis, attended the Grace Hopper Celebration (GHC) of Women in Computing in Orlando, FL.

The annual conference welcomed a record-breaking 25,000 women this year, approximately 5,000 of which were students. The other 20,000 individuals in attendance are currently in the industry, in various stages of their careers.

The venue exposed students to ongoing research as well as products that companies are currently creating, making the event academic as well as industrial. Over just four days, they networked, listened to inspiring keynote speakers, were mentored, and existed in a welcoming and inclusive community of like-minded females.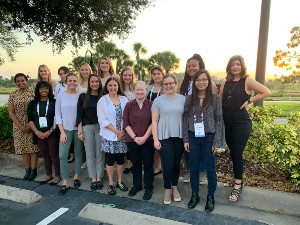 GHC also provides the opportunity for participants to connect with people through a job and internship fair. The students were asked to bring between 30 and 100 hard-copy resumes to hand out to potential employers and companies looking to diversify their hiring.

"By increasing identity diversity, like increasing women and underrepresented people in the field, [we can] potentially increase cognitive diversity, which creates better solutions," Dr. Davis said. 

Sources of support for attending this event include the Miami University Center for Career Exploration and Success, donations from a CSE alum, the AnitaB.org foundation and NCWIT. Three Miami students were provided full scholarships to attend the conference.

In Dr. Davis's opinion, "People recognize that it's important to grow the pool of talent and support women so that they'll want to stay in the field. It's hard to stay in a field if you feel like you don't fit in, so going to GHC teaches you that you do fit in and there's a path forward for everyone. It's a big deal to me."

More local events centered around women in computing include the TriState Women in Computing Conference (TriWic), which will be held this coming February at Eastern Kentucky University.

By Jenna Calderón, CEC Reporter