MME student receives President's Distinguished Service Award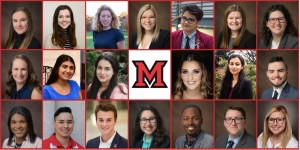 Apr 10, 2020
Each year, the President's Distinguished Service Award (PDSA) is given to a select group of students. These students are recognized for their outstanding service contributions to Miami, demonstrating leadership at its highest quality.
To be considered for the annual PDSA award, students must be nominated in the form of a letter. Each nomination is then reviewed by a Reading Committee, composed of faculty and staff on Miami's Oxford, Hamilton and Middletown campuses.
Among the 20 students chosen to receive this year's PDSA award is senior mechanical engineering major, Inés Muñoz de Cote.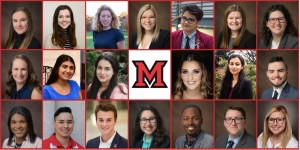 "Receiving this award is such an amazing honor because it means that I have made the impact I always strived for," she said. "...hopefully [I] have inspired people I work with to love what they do and try their best at it."
Muñoz de Cote is currently a teaching assistant for MME 414, Engineering Thermodynamics, and has been a member of Engineers Without Borders (EWB) and Miami's chapter of the Society of Women Engineers (SWE).
During her time at Miami, Muñoz de Cote has displayed excellence not only in academics, but in one of her greatest passions: ice skating.
As a member of the Miami Ice Skating Club, she competes nationally against other teams at the intercollegiate level. She has also held leadership positions in the club for the last three years, including the apparel chair, social chair and, currently, the competition chair and officials liaison.
Since her sophomore year, she has been a Learn-to-Skate instructor and private coach, always looking for more ways to get involved and give back.
As a freshman, many people doubted Muñoz de Cote's ability to juggle intense studies as an engineering major and her love for skating, but she hopes to set an example for younger students.
"With good time management and the right motivation, anything is possible," she said, "so don't stop your passions just because people say you won't have time.
Muñoz de Cote spent last summer skating with Disney on Ice, and hopes to rejoin them after graduating from Miami and before attending graduate school.
By Jenna Calderón, CEC Reporter